Cardano is a proof-of-stake blockchain for decentralized applications and verifiable smart contracts. The network has a research-driven approach to its development. Any decisions made go through a peer-review process of scientists and programmers, guaranteeing an academic quality to its development.
ADA is the native token of Cardano and can currently be used in staking; in the future, it will be usable for a variety of applications built on the Cardano network and for governance purposes.
‍
Ready to Stake? Here's what you need to know:
Key Staking Considerations:
Rewards are distributed every 5 days
Rewards are automatically compounded
There are no slashing penalties
No unbonding period
Tokens are not locked up during the staking period
After staking tokens, there is a two epochs period before token holders start earning rewards. Therefore, stakers will begin receiving staking rewards after 20 days.
To delegate your tokens, you may choose between two native wallets from Cardano:
Yoroi – a browser-based wallet developed by EMURGO. The Yoroi wallet is a light version for making transactions and runs on Firefox and Chrome as an extension. It has an instant setup, a user friendly interface, and does not take up much hard drive space. It also supports various languages, including English, Spanish, Italian, Russian, Chinese, Japanese, etc.
Daedalus – a full node wallet developed by IOHK. Being a full node wallet requires a complete installation of the blockchain, which helps verify the transactions and secure them. This option provides an advanced privacy system and might appeal to technically inclined users, but its space and bandwidth usage is considerable.
For more information on best practices and safety tips when using wallets, see this support article.
‍
Staking on Cardano: Step by step guide
Yoroi Wallet:
Head over to https://yoroi-wallet.com/#/ and set up the Yoroi Google Chrome Extension.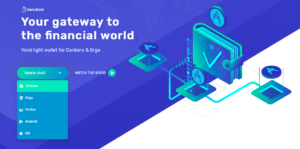 If you're launching the wallet for the first time, you have to choose the language, agree to the terms and conditions and choose "Simple" as the level of complexity. Skip "Cardano payments URL" and confirm.
Now create your ADA wallet. Remember that the safest option at this point would be to use a hardware wallet. If you already have a wallet, click on "Restore wallet" instead.‍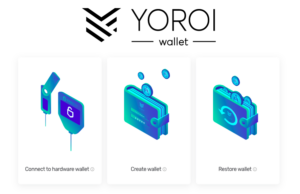 When creating a new wallet, you'll have to pick a name and a strong password.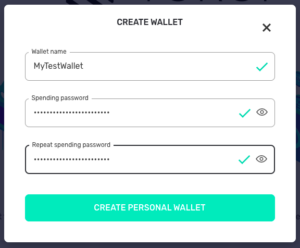 If you're not using a hardware wallet and chose to go with a local wallet instead, jot down your newly given 15 words seed phrase. Make sure to write it down somewhere safe.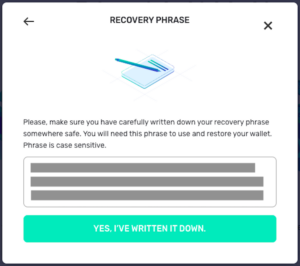 Once your wallet is created, you will see the Yoroi dashboard.

Now you'll need to send some ADA to your wallet. Simply go to the 'Receive' tab in order to copy your address, and use this address to send over ADA.

From the dashboard, open the "Delegation" tab and you'll see a multitude of staking pools in the list. Find and select a staking pool, click "delegate" – then confirm the transaction.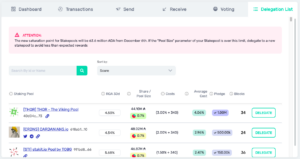 Congratulations, now you're done! You've successfully delegated your ADA tokens.
Note that there's a 2 ADA staking fee registration that you must pay the very first time you stake, and that there is no lock-up (unbonding) period on Cardano, meaning you can stop the delegation process at any time. Rewards are compounded, so any new gained ADA will be automatically staked as well.
‍
Daedalus Wallet: 
Head to https://daedaluswallet.io/ and download the software.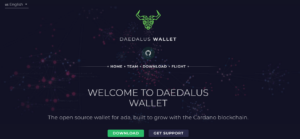 Install it and create a wallet. Remember to secure your passphrase somewhere safe!
Once you see the dashboard, the side menu on the left will show the network icon. Click on it as it will take you to the "Delegation center"- then, click on the "Stake Pools" tab.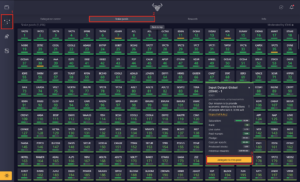 Use the search bar to type in the pool name that you want to delegate your ADA.
After you've found a pool, click on it and you'll be able to see more information about the pool. When you are ready, select "delegate to this pool"
Now you need to select the wallet you would like to delegate from.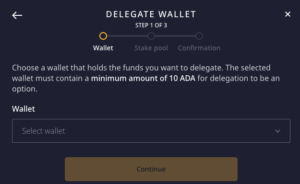 ‍
Double check that you've selected the right wallet and pool to delegate, and then confirm the transaction with your password. Next, connect your hardware wallet to confirm the transaction.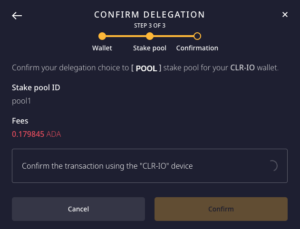 Note that there's a small fee to pay for the transaction.
That's it – you now have successfully staked ADA. There will be a latency period of 15-20 days, before your stake will start to earn rewards.
More on Cardano: