Did we make it?
We sure did!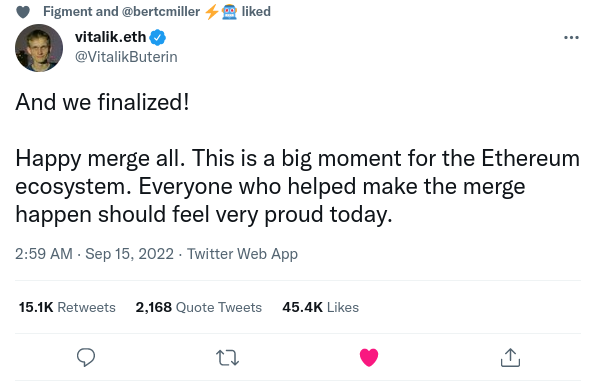 ‍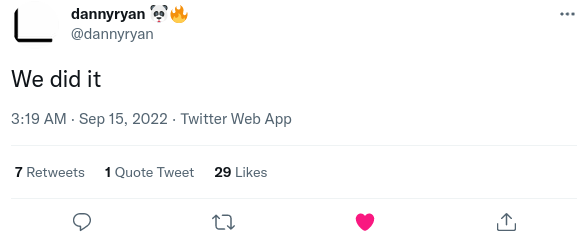 ‍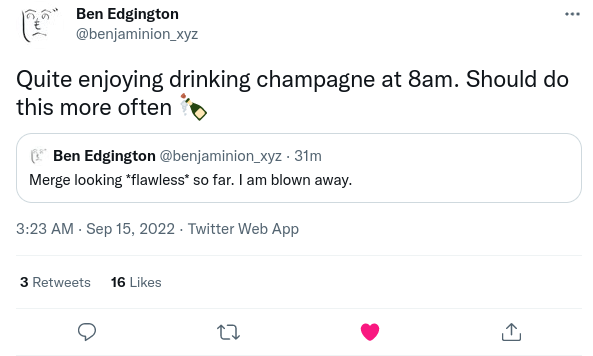 ‍
The Merge went smoothly. There was a drop in participation which was similar in magnitude to that experienced during the Bellatrix upgrade. In other words, a minor drop – much better than what was seen during the testnet merges.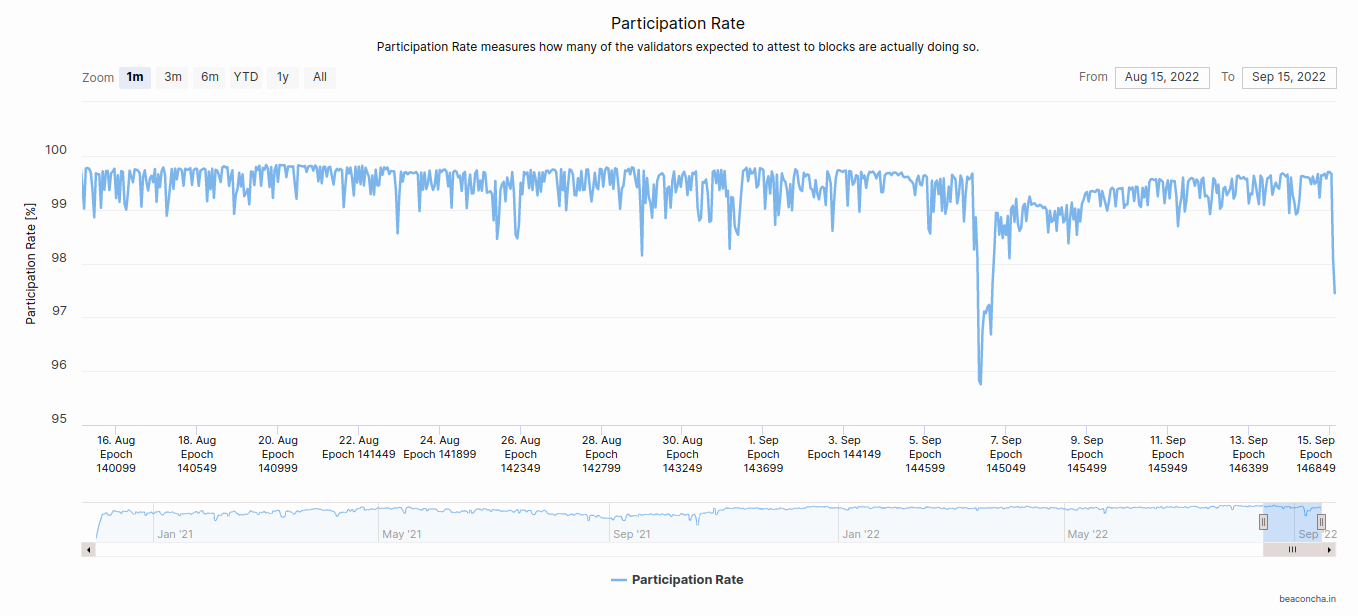 ‍
Given the magnitude of the upgrade, the merge should be seen as a great success. The fact that finalization was achieved with minimal delay testifies to the hard work of the core devs and the larger community.

[green = proposed, red = missed, gray = future slot]
‍
What exactly happened?
Total Terminal Difficulty of 58750000000000000000000 was reached around 6.44 UTC on Sep 15, 2022.
This event signifies the beginning of the Paris Hard Fork. The duty of processing transactions and coming to consensus (among other things) has been passed from miners to validators. Blocks on the Beacon Chain now contain execution payloads and validators are now responsible for building the canonical chain. For more about the Paris upgrade see here.
On September 6th the Bellatrix Hard Fork prepared the Beacon Chain to take on these responsibilities (see here for more).
From a high level, pre-merge both transaction processing and consensus were all accomplished within Eth1 nodes. Post-merge these responsibilities have been split out – with transaction execution responsibilities retained by the execution layer and consensus moved to the consensus layer. Splitting these responsibilities requires communication between both layers, which is achieved through the engine API: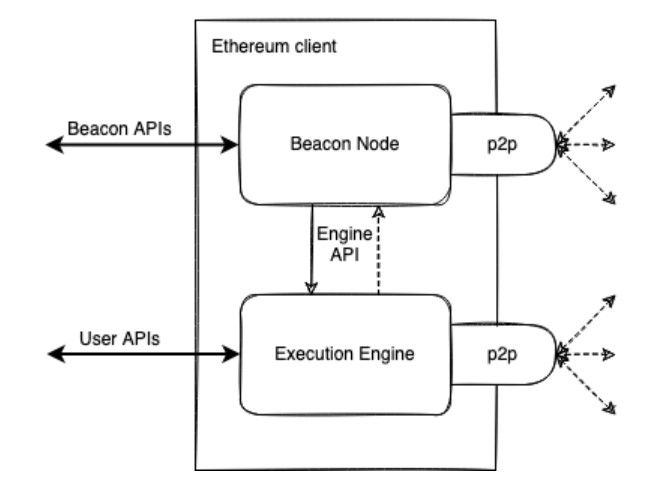 ‍
Rewards?
One of the things stakers will be most interested to watch are post-merge rewards. Estimates have varied from a 50% increase to more than doubling.
It should be noted that any estimates based on rewards in the first few hours of the merge are going to be misleading and should not be taken as a predictor of longer term rewards.
That said, going into the merge rewards for validators looked like this: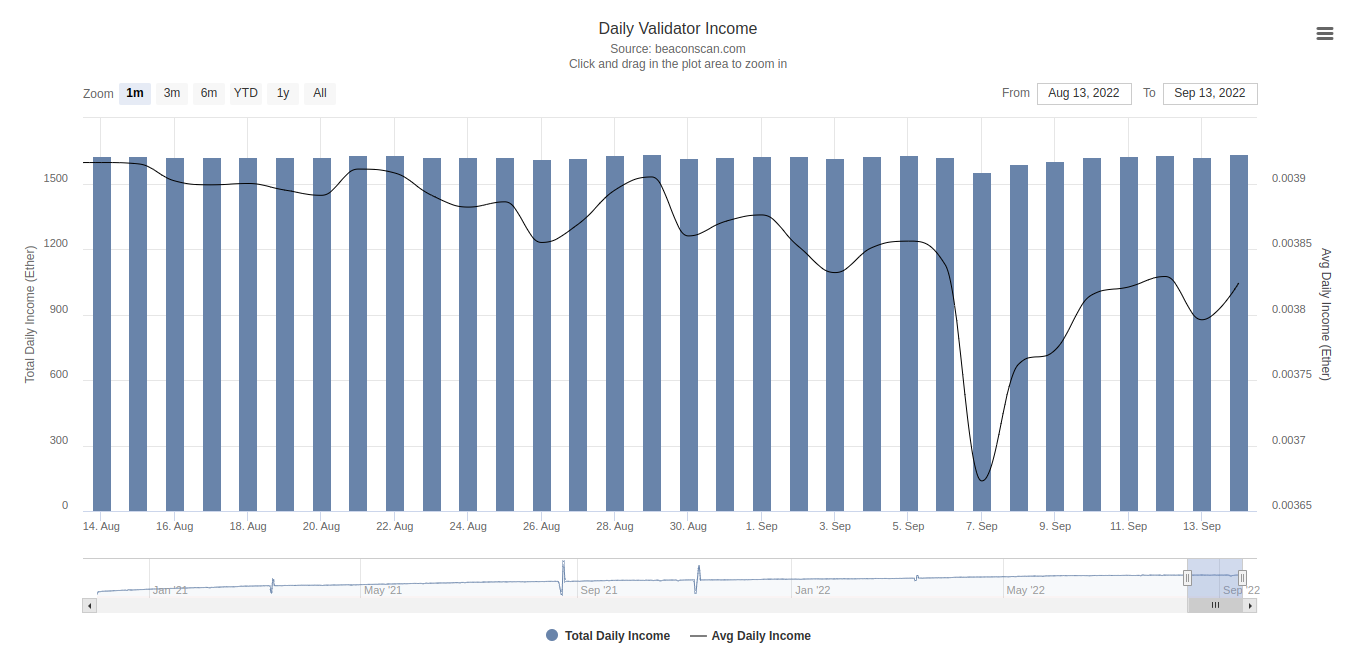 ‍
That is average validator daily income of 0.003845 ETH and network-wide issuance to validators of around 1600 ETH/day.
Looking at rewards paid out to miners pre-merge and rewards paid to validators post-merge gives a sense of the drop in Ether issuance.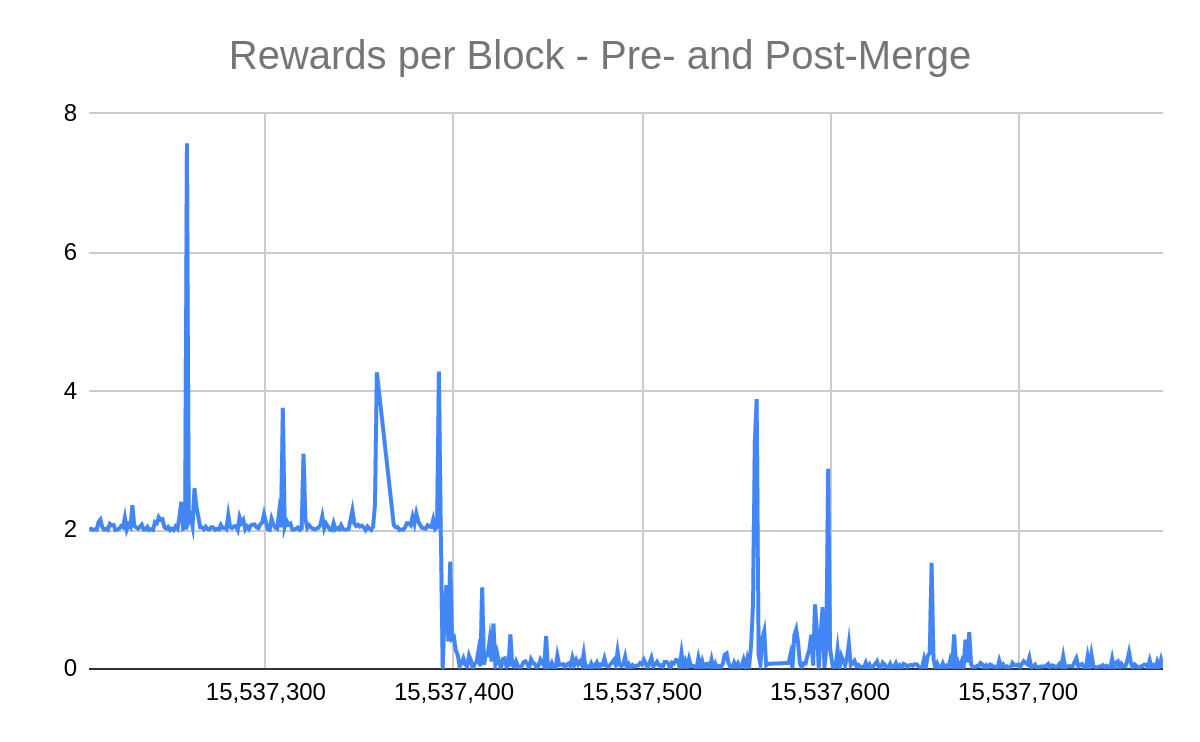 (Data from Beaconcha.in)
‍
*the reward for the first Beacon Chain block post-merge was omitted as it was an outlier, with a reward of around 45 ETH (for those interested see here)
The average reward over this period was 0.14 ETH per block. Calculated as an Annual Percentage Rate (APR), this number is about 2.7%.
A few things to note about this number:
this calculation is based on a very small sample of post-merge blocks, so it is strongly recommended not to use this number as a projection of longer term rewards
this number does not include rewards for attesting or proposing – it captures mostly priority fees (or tips)
the nuance being that it does appear to capture some MEV rewards; however, both Flashbots and bloXroute – two of the major relay providers – agreed to wait 16 epochs before serving blocks through MEV Boost, meaning no blocks would be served until after epoch 146891. It is possible that the number above captures a small amount of MEV rewards that will be experienced in the long term.
Indeed, the first block coming from MEV Boost came at epoch 146892 (didn't take long!):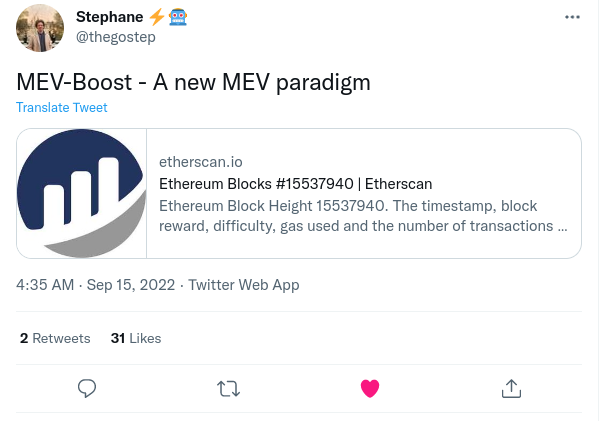 ‍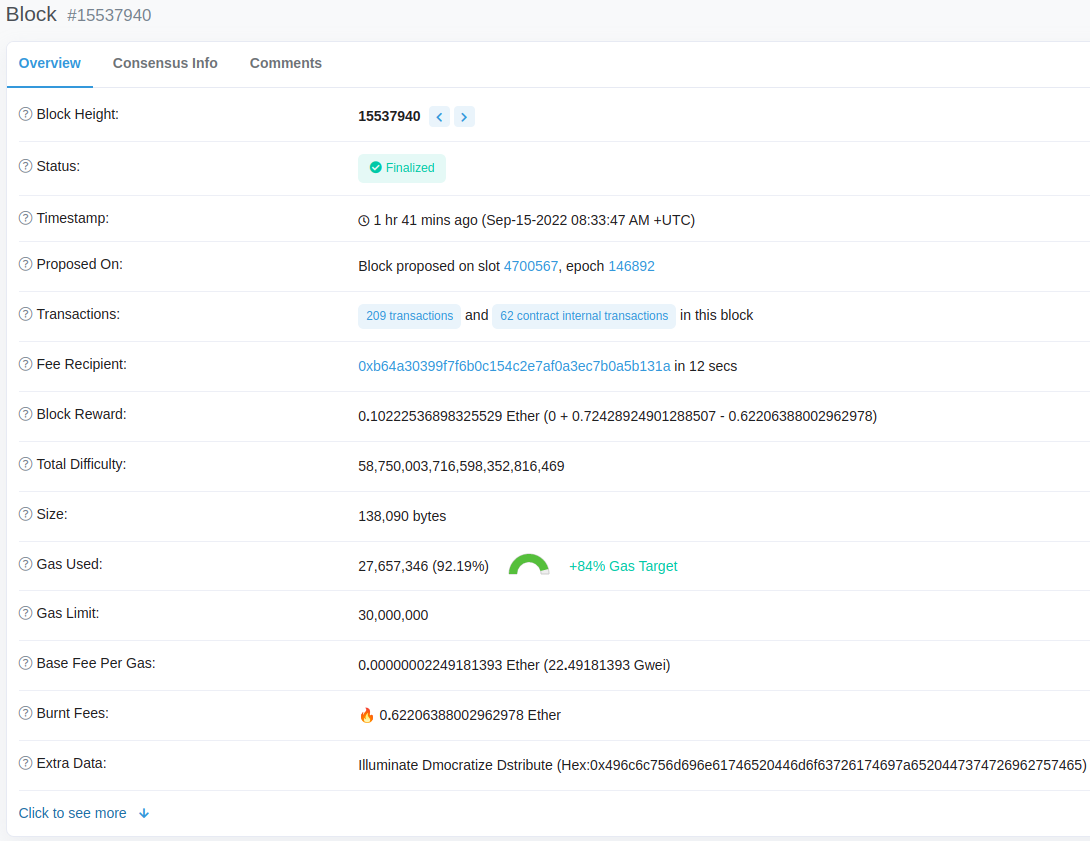 ‍
FWIW the reward for this block was 0.1022 ETH, representing an APR of 0.32%. It is too early to extrapolate from the handful of blocks coming from MEV Boost as to the longer term average of MEV rewards. That said, MEV Boost does appear to be functioning as intended.
All told a very smooth merge that went according to plan and ushers in a new era for Ethereum. The community will now likely turn its attention to post-merge rewards and the next upgrade – Shanghai. We'll monitor rewards in the coming days as well as Shanghai developments and provide more perspective soon. Happy Merge!
To learn more about staking Ethereum with Figment, click here.