Liquid Staking is not currently available for US customers. 
Liquid Collective is an enterprise-grade liquid staking protocol. The first token offered by Liquid Collective is LsETH, a fungible receipt token based on the Ethereum ERC-20 cToken model. When a user deposits ETH to the Liquid Collective protocol, they receive LsETH as evidence that they own the staked ETH as well as any network rewards that accrue to the staked ETH minus protocol service fees and potential slashing penalties. 
Key Staking Considerations: 
Liquid Collective is the secure liquid staking standard: a protocol with multi-chain capabilities designed to meet the needs of institutions, built and run by a collective of leading Web3 teams. 

The protocol is stewarded by an independent industry consortium, which includes The Liquid Foundation, Alluvial, Coinbase Cloud, Figment, Kraken/Staked, Bitcoin Suisse Kiln, and other Web3 industry participants. 

Liquid Collective is governed in a decentralized manner by a broad and dispersed community of industry participants. 
Ready to start staking LsETH? 
The first step is to log into the Figment app, if you aren't already on the Liquid Staking allowlist please reach to sales@figment.io. Keep in mind that Liquid Staking is not currently available for US customers. 
Once on the allowlist, you will see the "Liquid Staking" button on the left side menu in the Figment app. Click on the "Liquid Staking" button in the top left.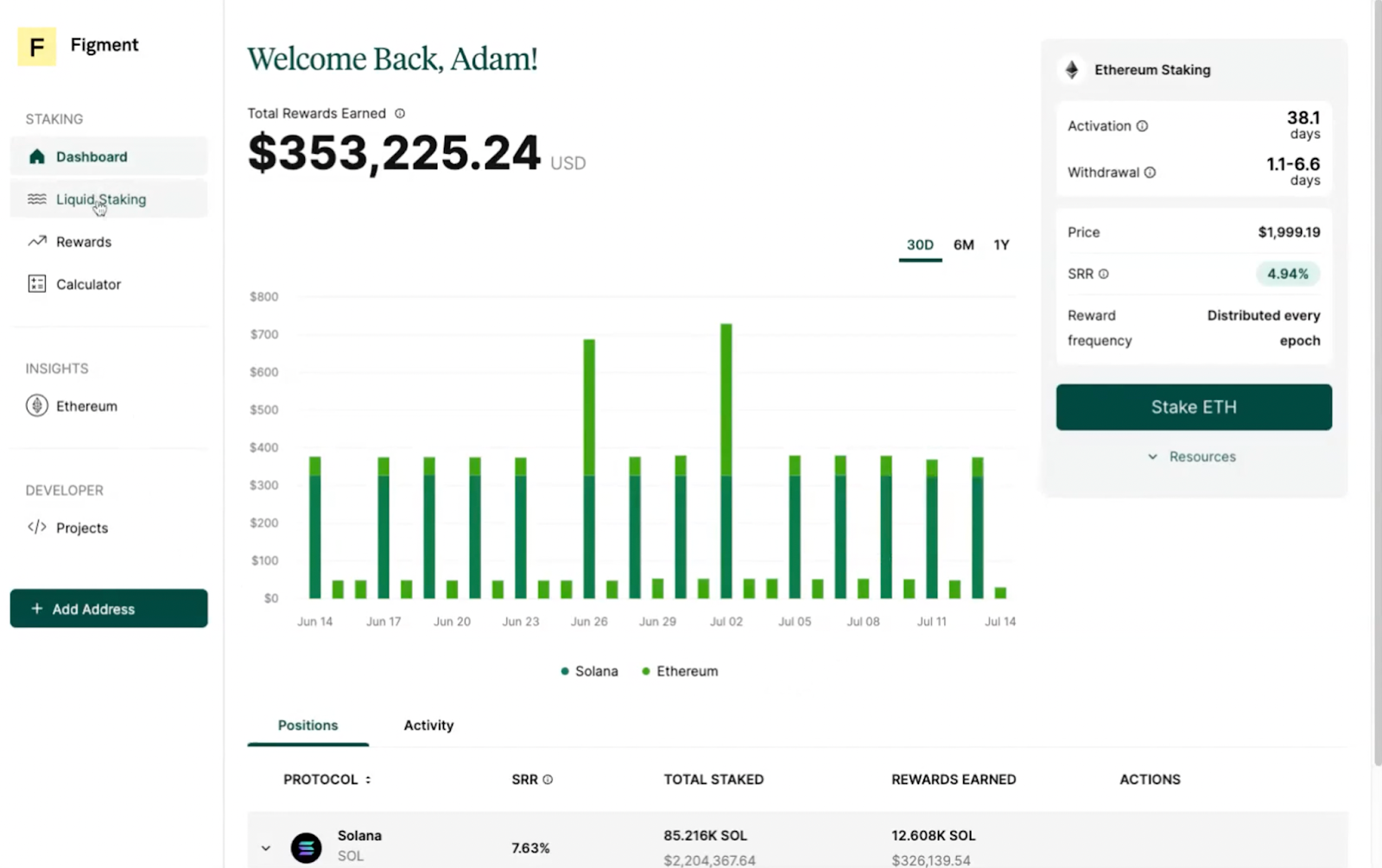 Now you can connect your wallet via MetaMask or WalletConnect, which allows you to connect from several wallet providers including Fireblocks, Ledger and more.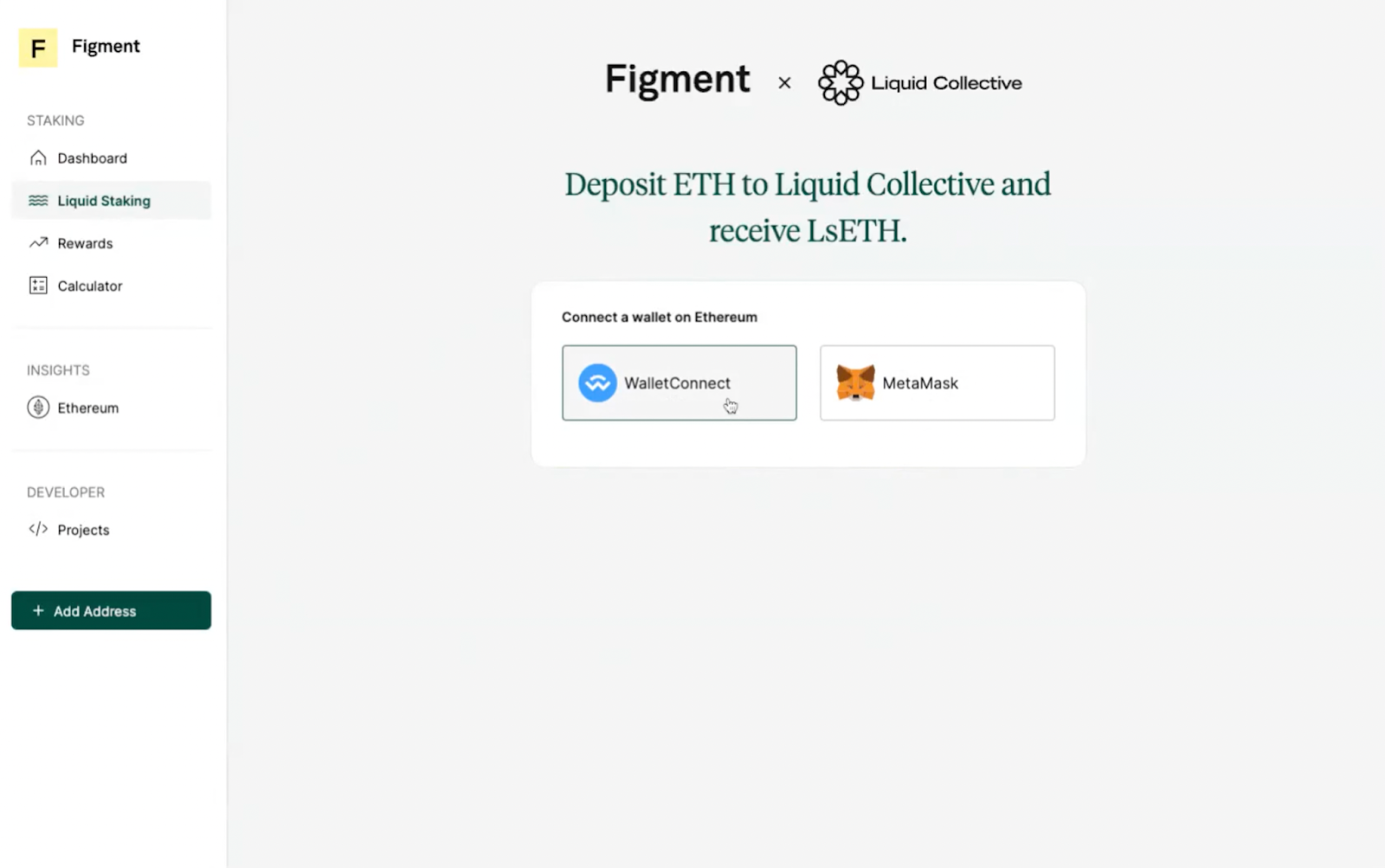 After your wallet is connected, the interface will show your available balance, current deposits, LsETH conversion rate, and more. 
When you input the amount of ETH you wish to liquid stake, you will see the corresponding amount of LsETH received. The conversion rate is calculated based on the amount of ETH in the Liquid Collective protocol divided by the number of outstanding LsETH. Head here for more information about the conversion rate.
Now, you can enter the amount of ETH you wish to deposit. A unique feature of Liquid Collective is the ability to stake as little or as much as you like from your available balance. 
Please read the the LsETH Terms of Use in full before agreeing to them, make sure everything looks good, and click "Submit."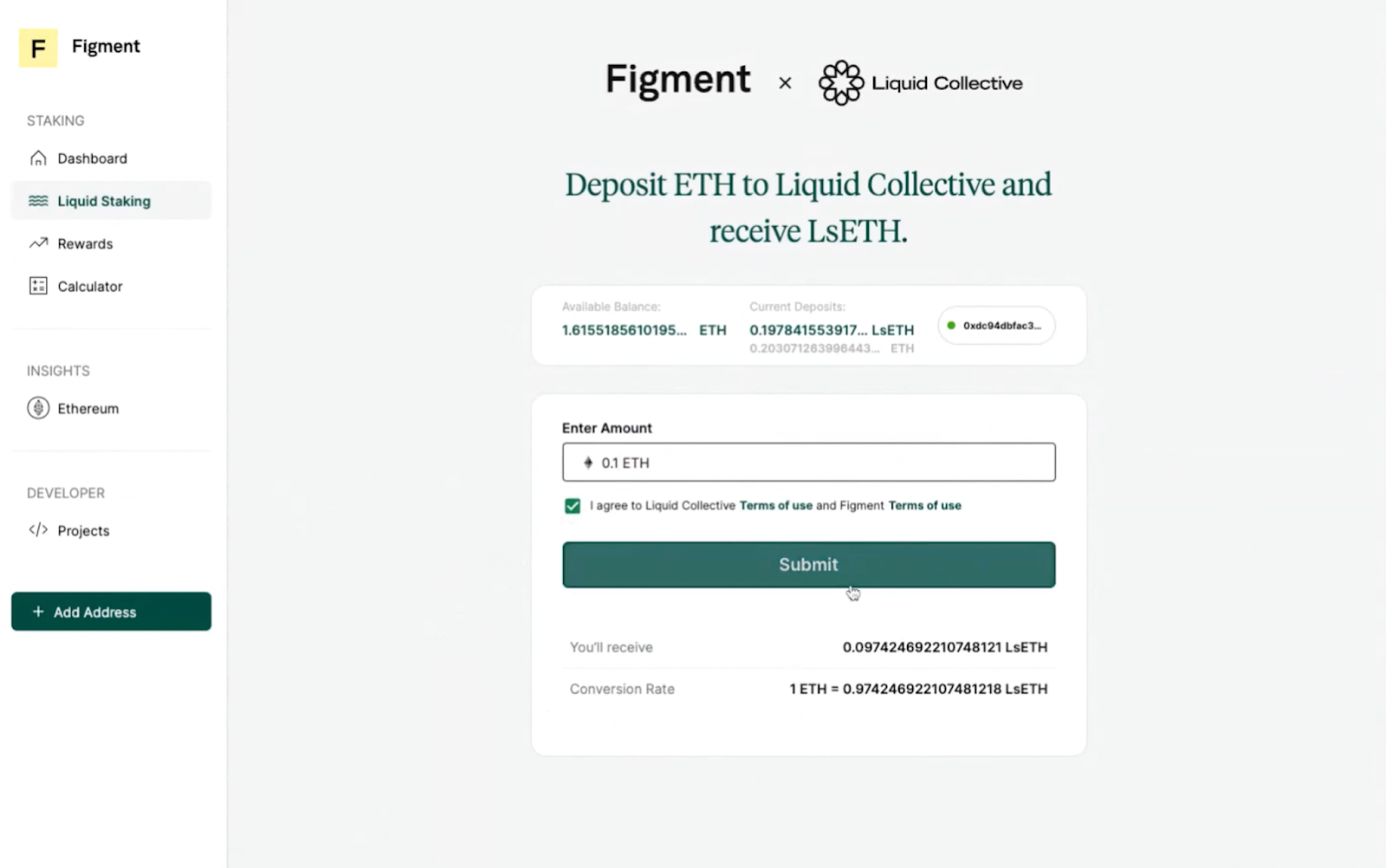 Proceed with signing the transaction on your wallet. Once the transaction goes through, you will see a confirmation pop-up.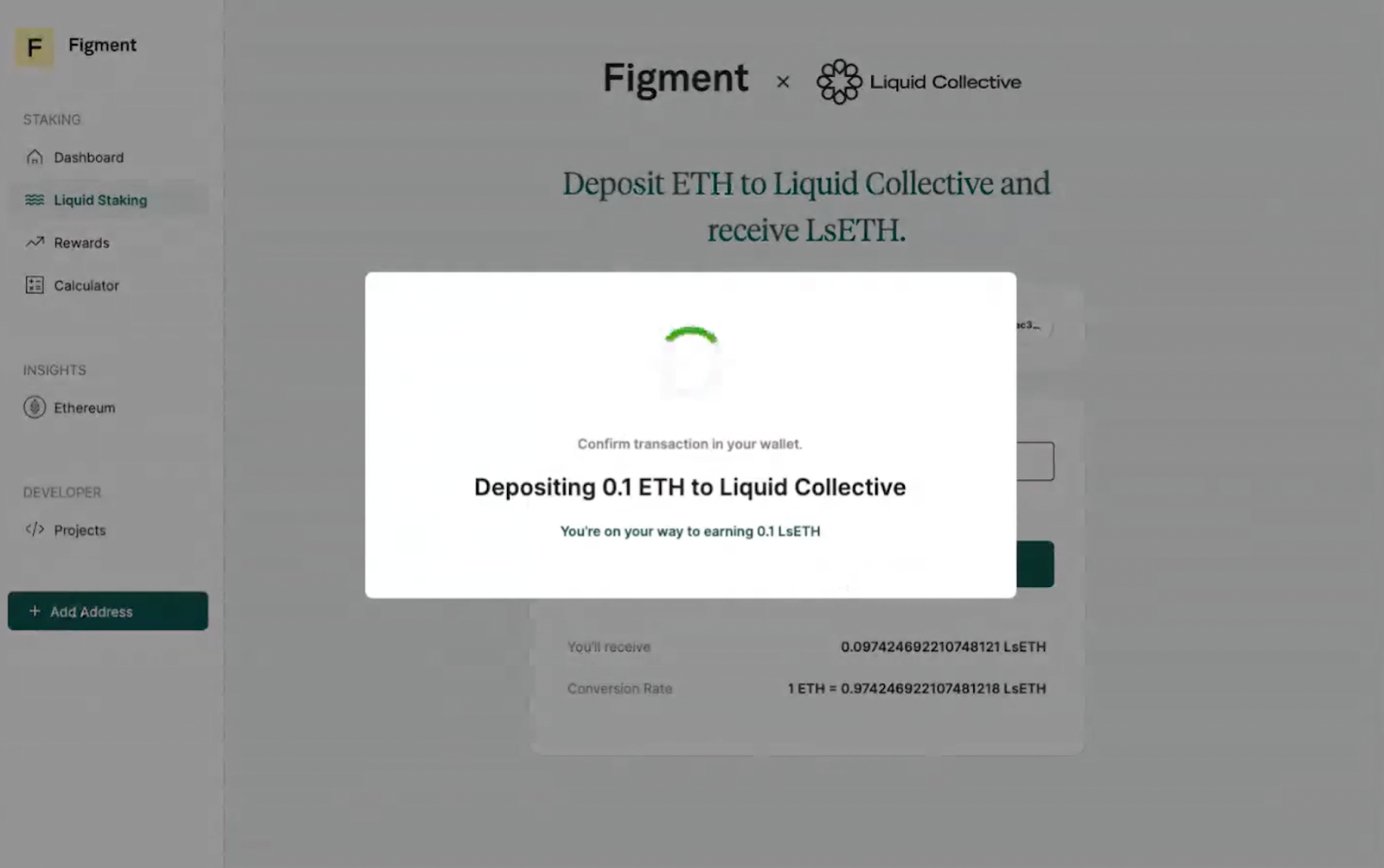 Your ETH deposit to Liquid Collective was successful!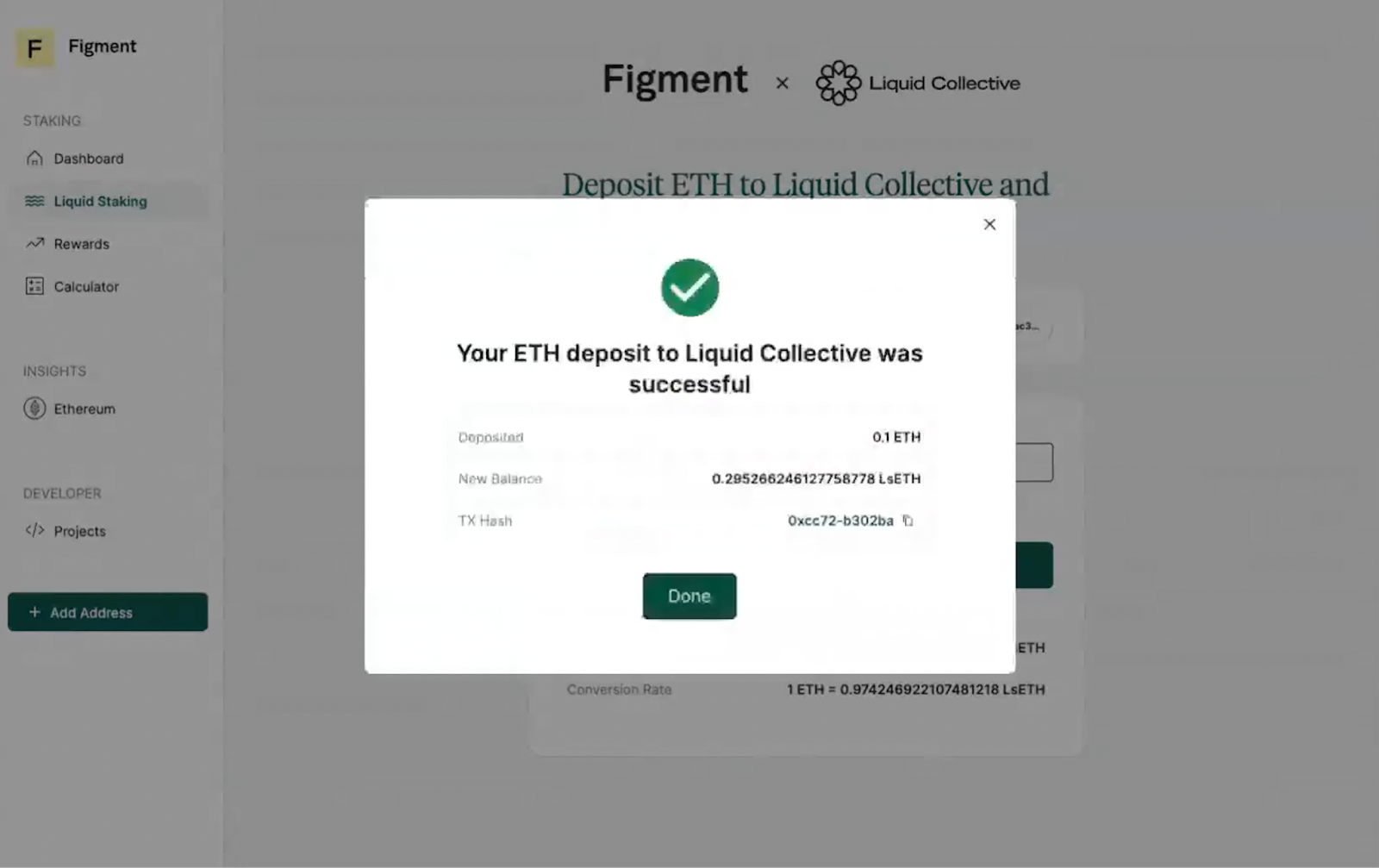 Once you click done, you'll be able to navigate back to the dashboard and deposit more or manage your positions. Congratulations! You are now earning rewards on your staked ETH and have LsETH, a liquid receipt token representing your deposited Ethereum plus accrued rewards. 
Built for Institutions
In order to meet the needs of enterprises and institutional investors, Liquid Collective seeks to build the industry standard for liquid staking and provide the deepest liquidity in the industry. The protocol is demonstrating early success with this strategy by partnering with the largest and most trusted integrators and validators in the ecosystem – including Figment.
Liquid Collective is audited by third-party providers, conducts sanction checks on the validators, KYC/AML checks on users/wallets, and monitors the LsETH supply to ensure it's reconciled on an ongoing basis with the balance of ETH staked on validators. If you have further questions about Liquid Staking, reach out to sales@figment.io today. 
The information herein is being provided to you for general informational purposes only. It is not intended to be, nor should it be relied upon as, legal, business, or investment advice. Figment undertakes no obligation to update the information herein.