Only two months following Shapella, which saw the enabling of withdrawals on Ethereum, we're now in the biggest activation queue we have seen in the history of the network, topping out around 95,000 validators.

The activation queue on Ethereum had been steadily increasing. Currently the queue stands at about 83,000, assuming no further additions, it will take until August 16th for Ethereum to process all of these activations – about five-and-a-half weeks as at the time of writing.

(source)
Going into Shapella it was clear that there would be some Ethereum validators exiting staking. It was also suspected that there would be some churn related to changing staking service providers. As expected, there was a quick build up in the exit queue following Shapella, reaching a maximum of about 17,000 validators. In the chart below you can see exits represented by the blue bars (i.e., "principal").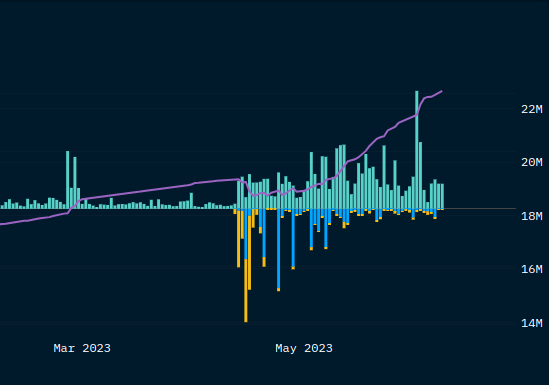 The end result is a peak of the exit queue of around 17,000 validators, while the max in the activation queue was around 95,000.
The chart below shows ETH Staked by week and provides historical context – we have never seen staking demand like this: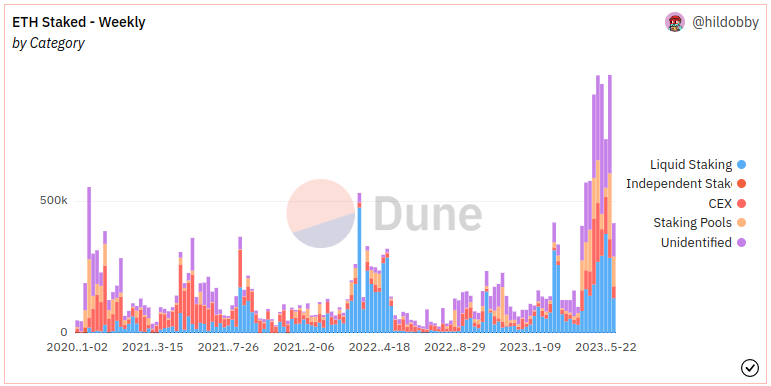 Although it's hard to say with certainty, it is very likely that much of this demand comes from token holders that were unable to stake without the withdrawal capabilities provided by Shapella. It also seems quite plausible that larger, institutional tokenholders form the majority of this group. Additionally, Shapella can be seen as yet another success for the Ethereum community, moving Ethereum closer to its longer term vision. By stacking up successes like the Merge and Shapella, Ethereum continues to gain more and more traction with the mainstream.
Staking Ethereum with Figment
If you are interested in staking Ethereum, Figment offers a host of services aimed at delivering safe and reliable staking rewards for your assets. Figment is the largest independent ETH staking provider with 4.78% share of staked ETH. 
Our 250+ institutional clients rely on Figment to provide best in class staking services including seamless and easy integrations, detailed rewards reporting, insights, MEV-Boost activation on ETH, double-sign slashing, and downtime penalty coverage. Figment's team has extensive Ethereum knowledge intended to help dive into the specifics such as rewards and staking information. Visit our website to learn more about Ethereum staking.
The information herein is being provided to you for general informational purposes only. It is not intended to be, nor should it be relied upon as, legal, business, or investment advice. Figment undertakes no obligation to update the information herein.