The SKALE Network is an "elastic" blockchain network that is designed to be interoperable with Ethereum. Figment will be supporting SKALE and its stakeholders at launch, which is scheduled for October 1st.
Quick Takes
Inflation set at 9.3% for the first year
No tokens will be liquid at genesis
Consensys Activate participants must stake at least 50% of their tokens for 60 days in order for them to become unlocked
Total supply of SKL at genesis is 4.14 billion
Maximum supply of SKL is 7 billion
Estimated annual reward rate between 9.9% – 29.71% based on participation and staking duration
Genesis block scheduled for October 1st
Network Economics Overview
The SKL token on the SKALE Network will be primarily used for three things:
Staking – SKL token holders can stake SKL to validators operating on the SKALE Network.
Fees – Dapps will use SKL tokens to pay for SKALE Network utility (i.e. SKALE chain purchase/rental).
Governance – SKL token holders who decide to stake their SKL tokens can participate in on-chain governance.
SKALE validators and their respective delegators will earn rewards every epoch (1 month) on the SKALE Network. Rewards will be a combination of token inflation and fees paid by Dapps.
Token inflation is set at 9.3% in year one and will gradually descend over the span of 6 years.
Token inflation will be the primary source of rewards for validators on SKALE in the first year, but over time, it is expected that the majority of rewards will be generated through Dapp fees, which reflects usage in the network.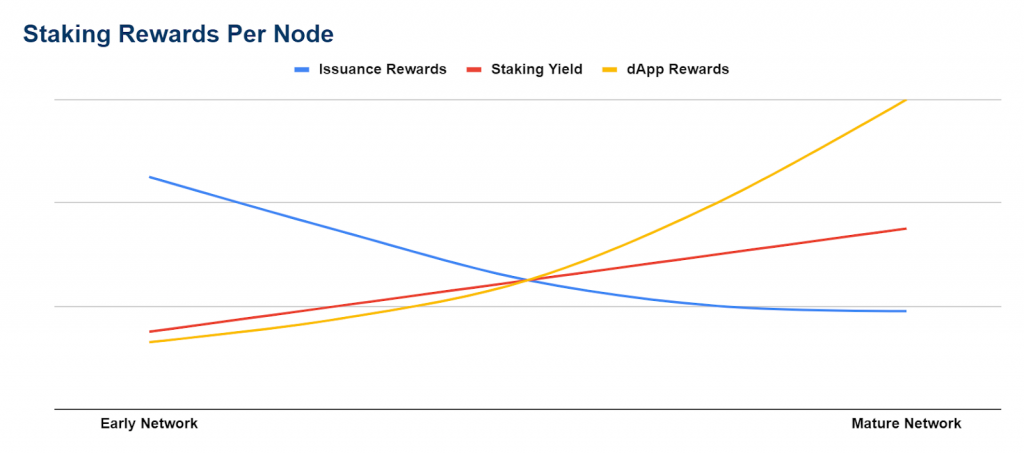 The SKALE Network uses a "Network Load Utilization Curve" to effectively price subscriptions paid by Dapps on SKALE. If network usage is low, the price paid by Dapps to rent chains on SKALE will be low. If network usage is high, the price paid by Dapps will be high. This change in price will incentivize validators to add more nodes to the network, which in turn will increase supply and lower prices. This mechanism overall will keep the network balanced.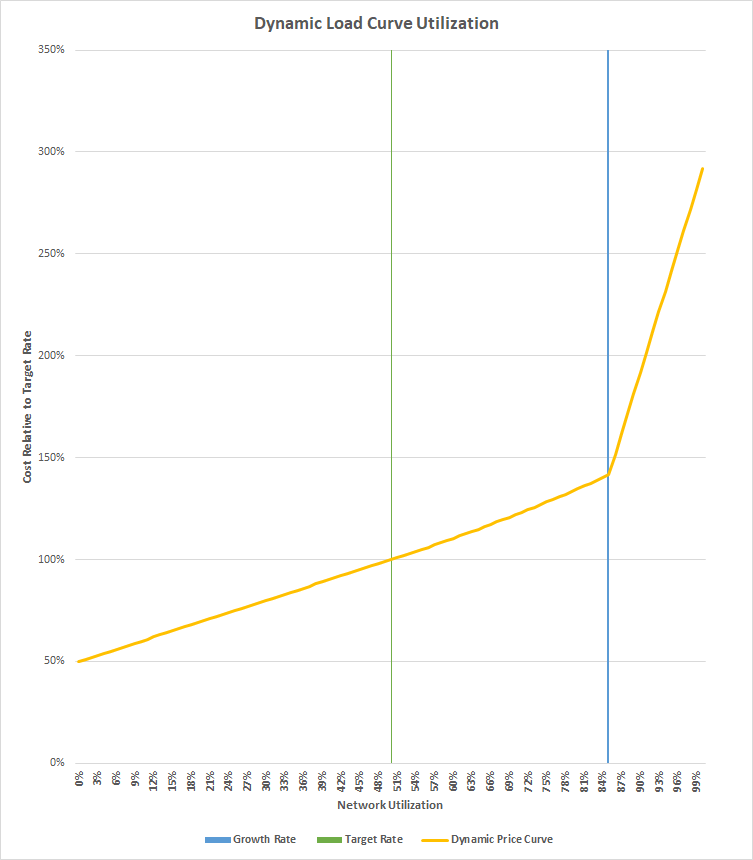 SKL Token
The SKL token is built on an ERC-777 token standard. ERC-777 tokens support delegation on the token level. This means that a delegator will no longer have to send their tokens to a delegation smart contract. Instead, the delegator will share a staking provider a secure delegation key while storing their tokens in a wallet of their choice. ERC-777 is fully backwards compatible with ERC-20.
The total supply of SKL at genesis will be 4.14 billion, and will have a max supply of 7 billion.
All tokens at genesis will either be locked or illiquid. 646.25 million SKL genesis tokens will enter circulation 61 days after genesis, which means that they become liquid and can either be sold or transferred. This occurs after the 60 day Proof of Use period ends on the Consensys Activate platform.
Consensys Activate participants will be able to stake their SKL with Figment and other validators via the Consensys Activate platform.
Proof of Use
All token holders who receive tokens via Consensys Activate are required to complete a Proof of Use, which requires token holders to stake at least 50% of their SKALE tokens for 60 days before their tokens become unlocked and liquid.
Token Distribution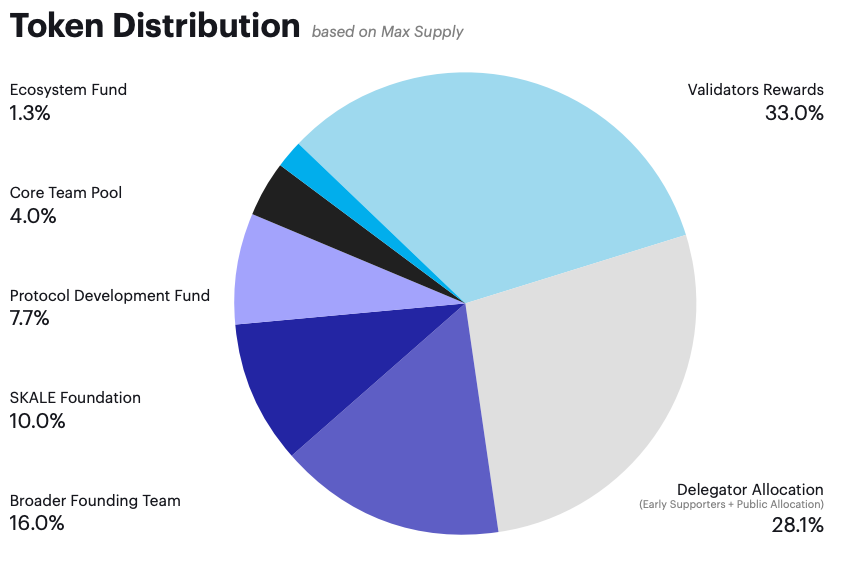 Many of SKL tokens will be subject to lockup periods. You can check the details of the lockup periods via this interactive chart.
Staking SKL
Staked tokens will be locked, while staked, and token holders can choose to stake for 3, 6 or 12 months. Token holders who choose to stake for longer will have a higher reward rate (1.5x for 6 months, and 2x for 12 months) when compared to staking for the 3 month minimum.
All validators will receive equal rewards on SKALE with the exception of the multiplier for choosing to stake tokens longer. This means that rewards are not proportional to the amount of tokens staked to validator. With this in mind, it would be beneficial for a staker to stake to a validator with lower stake.
Reward Rate
Because inflation is fixed at 9.3% for the first year, the reward rate will fluctuate based on staking participation. The target stake rate at launch is 40%. Validators and delegators can expect an annual reward rate of 9.9% if staking in 3 month increments, 19.81% if staking in 6 month increments, and 29.71% if staking for the full year as long as the target stake rate is achieved.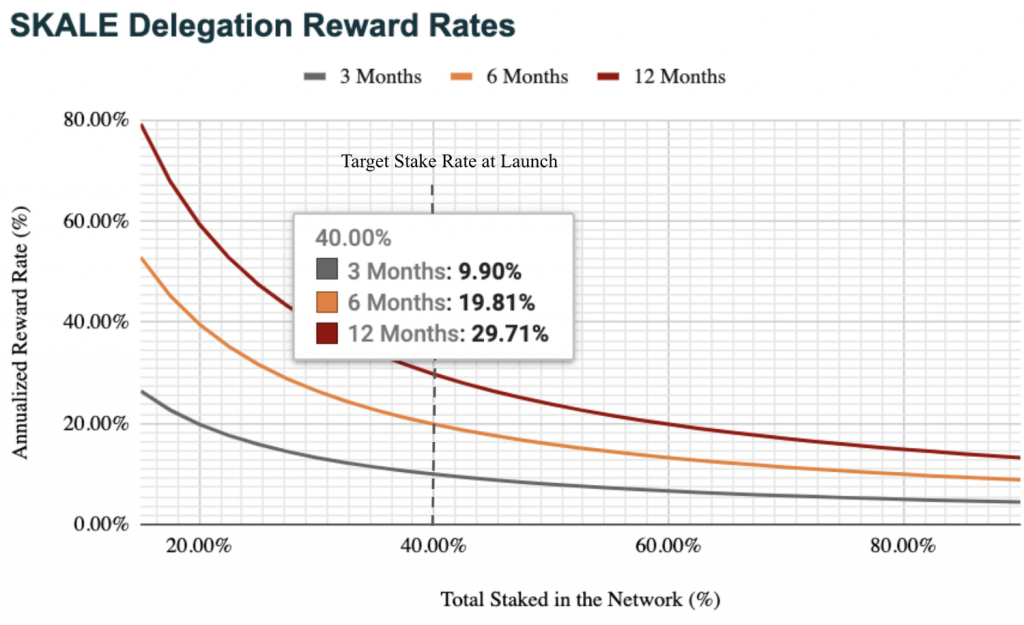 Risks
Unlike other networks that have unbonding periods or where tokens stay mostly liquid when staked, SKALE requires delegators to specify a period they wish to stake for. As mentioned before, tokens are locked during the time that they are staked.
This means that token holders who decide to stake cannot trade their tokens and will be subject to slashing throughout the entire duration of the specified period.
Important Dates
September 24th – Delegation and token claiming goes live on SKALE. There is a recommended 4 day window for SKL token holders to choose which validators they would like to delegate to at genesis.
September 28th – Recommended delegation deadline. If you fail to delegate your SKL before mainnet launch, then you will not be able to delegate until the next epoch, which would be ~1 month after genesis. You will have a week to stake before the deadline.
October 1st – Epoch 1 genesis begins. Validators and delegators will begin earning rewards on SKALE.
More information on the economics of SKALE can be found on SKALE's blog.