Celestia is a Proof-of-Stake (PoS) blockchain with an accessible Data Availability (DA) layer. The DA layer offers networks the ability to leverage posting their data to Celestia without having to store and verify the data on their own chain. 
Importantly, Celestia introduces the concept of a technical 'stack' in the construction of blockchain networks, meaning that a given network can depend on another specialized network to provide a service within its ecosystem, in order to enable the dependent network to more efficiently accomplish its desired function(s) by outsourcing certain key functions to specialized networks.
With Inter-Blockchain Communication (IBC) as an integral element of Celestia, the DA layer is biased toward interoperability by default. This means that all networks using Celestia as a part of their stack can easily communicate with any other part of their stack, all the while posting their data to the Celestia chain. In the long run, we expect that the modular paradigm will prompt a new wave of interoperable blockchain utilities that serve one another rather than relying entirely on themselves for all crucial technical needs.
Ready to Stake?
Key Staking Considerations:
Rewards are distributed automatically every block

Tokens are locked during the staking period

A new delegation is required for compounding rewards 

Slashing: 5% for double-signing, 0% for downtime

Unbonding Period: 21 days
For this guide, we will be using the Keplr wallet. This wallet is non-custodial, and requires the user to keep track of their own mnemonic phrase, and password. To learn more about custody and best practices, check out our "What is Custody?" video. 
Staking Celestia: Step-by-Step Guide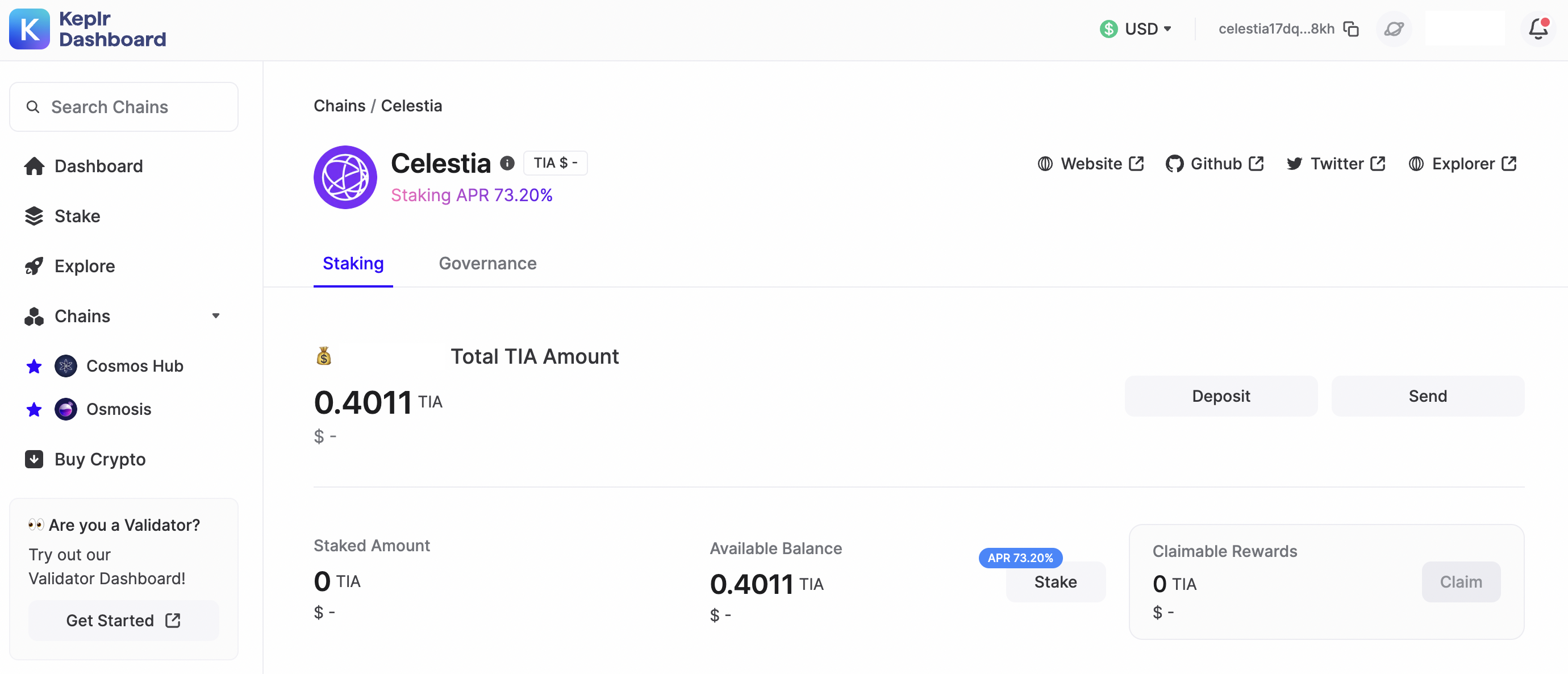 To begin staking Celestia using the Keplr wallet, head over to your Keplr wallet dashboard. 
If you do not have Keplr wallet installed, visit the Chrome store here. 
Here on the Keplr Dashboard, ensure you are on the "Celestia" page. This is where you will stake the TIA token. 
To begin the staking process with Figment, search for "Figment" under "All Validators" below. 
If you are having trouble finding the Figment validator, view the full details here.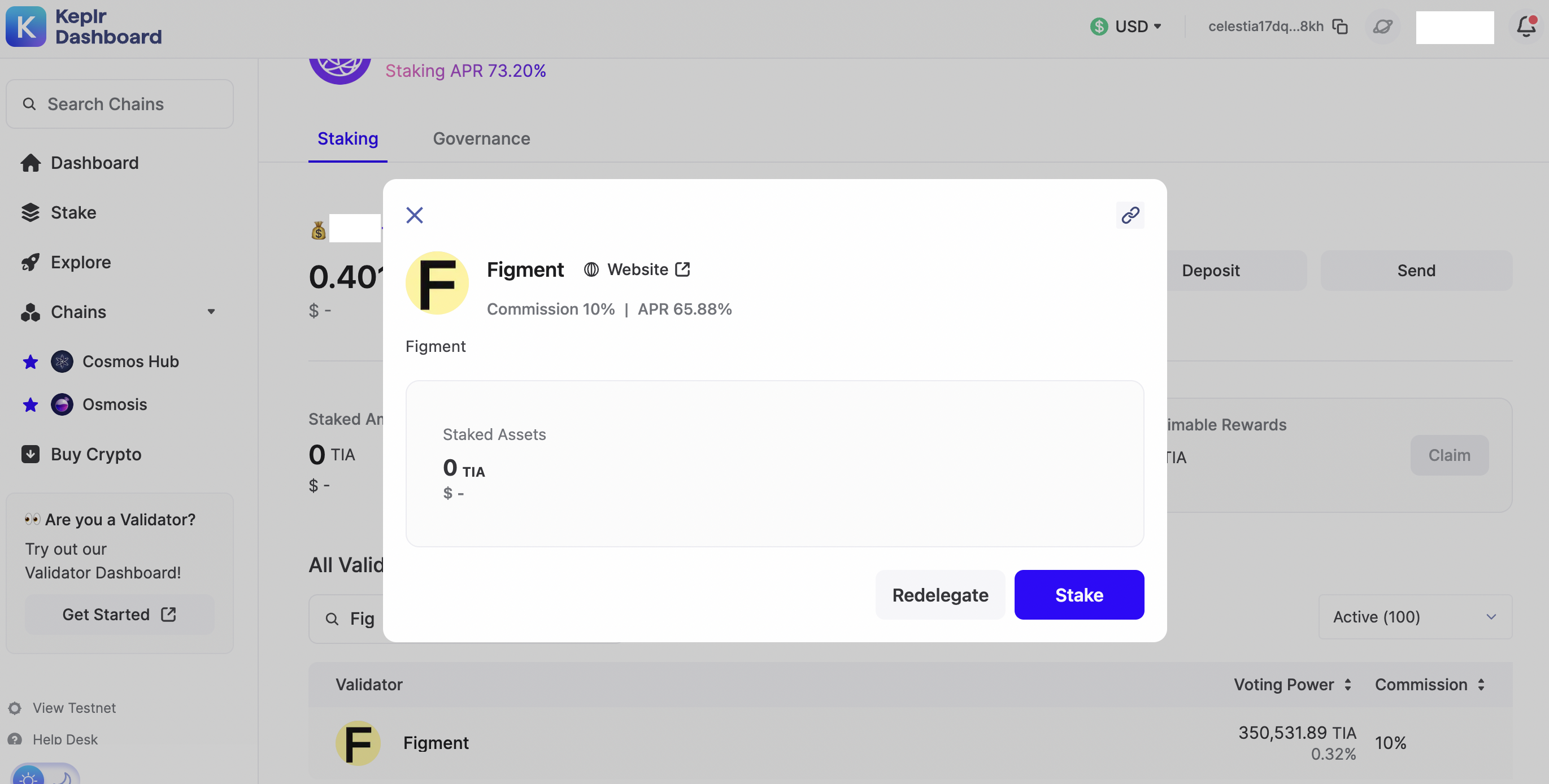 Once you have found the Figment validator, select it, and then click "Stake" when you are ready to begin staking tokens.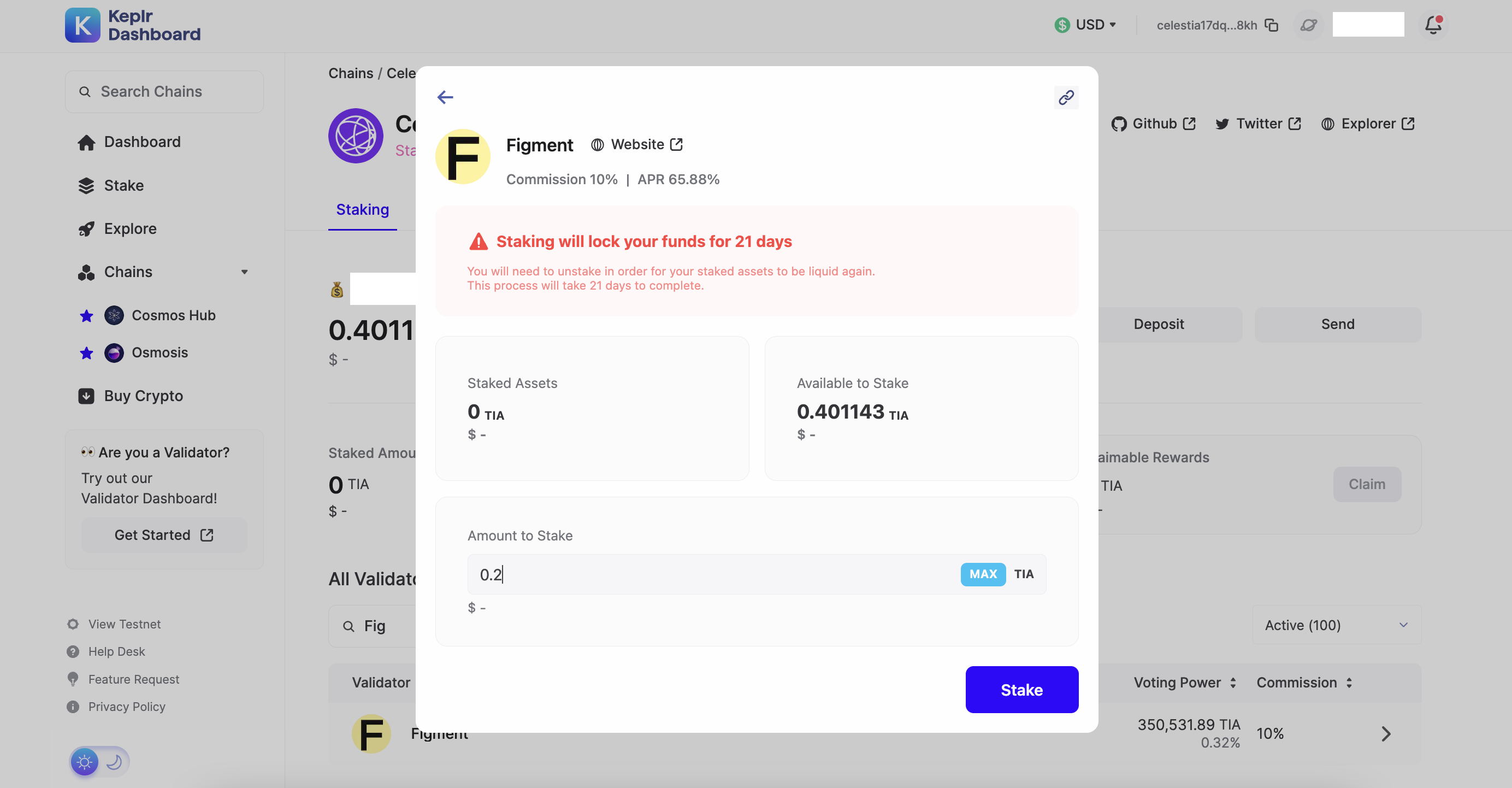 When you are ready to stake TIA tokens, input the amount you wish to stake, and click "Stake"
As a reminder, tokens are locked during staking and are subject to a mandatory 21 day unbonding period once they are unstaked. 
After clicking "Stake" proceed by confirming the transaction on your Keplr wallet. 

Once you've confirmed the staking transaction on your Keplr wallet, you will see a "Transaction is in progress" notification in the top right corner of the screen.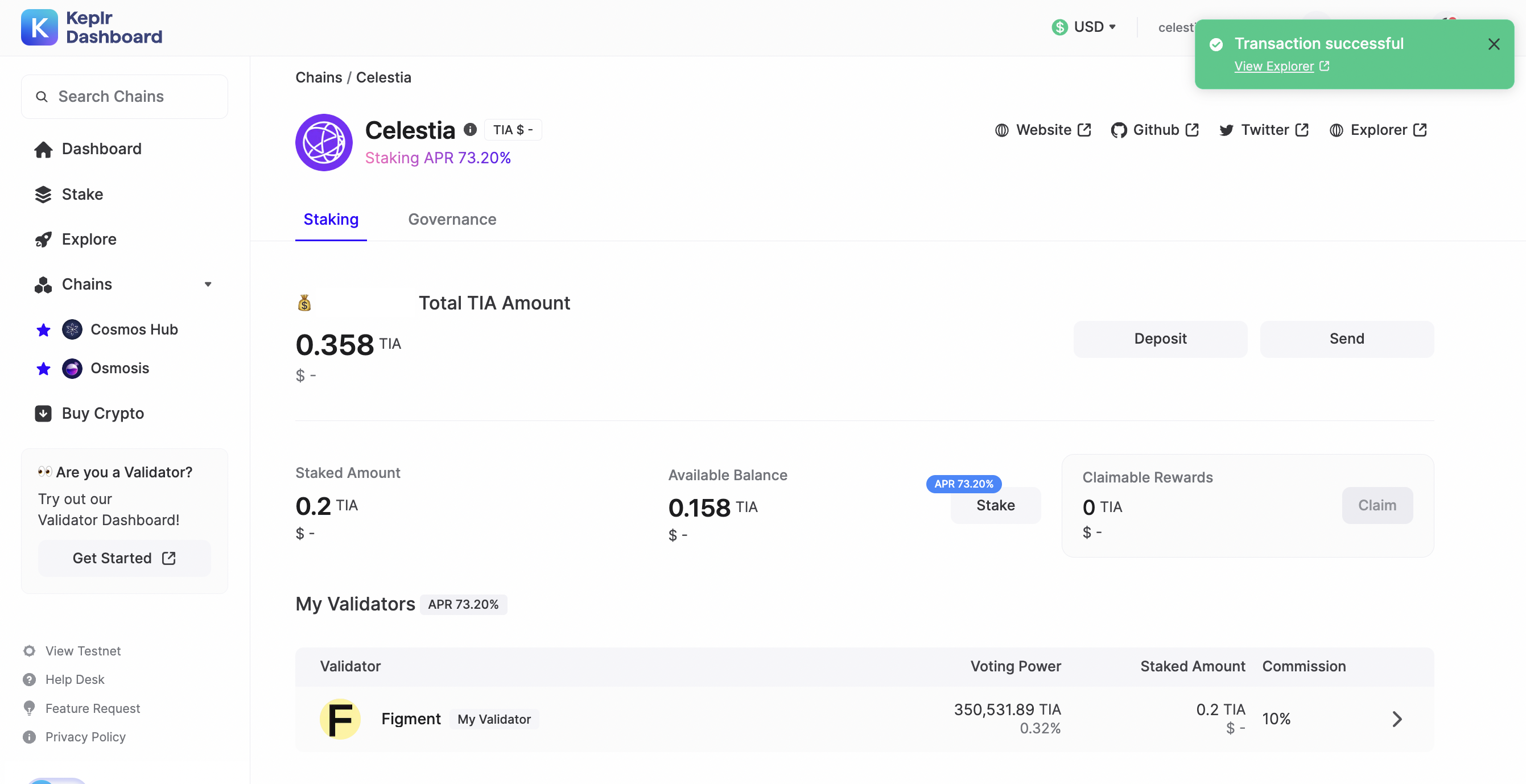 Once the transaction is confirmed, you will see a notification for this in the top right corner of the screen saying "Transaction successful."
Below, you can now see your TIA balance, along with the staked balance. Congratulations! You successfully staked Celestia's TIA token to Figment's validator. 
Staking with Figment 
Figment is the leading provider of staking infrastructure with over $3B in total assets staked. On Ethereum, we are the largest independent non-custodial staking provider with nearly 5% of staked ETH on Figment validators. We provide the most comprehensive staking solution for over 250 institutional clients, including asset managers, exchanges, wallets, foundations, custodians, and large token holders, to earn rewards on their digital assets. These clients rely on Figment's institutional staking service, including rapid API development, rewards reporting, partner integrations, and slashing protection.
If you are interested in staking Celestia with Figment, meet with us. 
The information herein is being provided to you for general informational purposes only. It is not intended to be, nor should it be relied upon as, legal, business, or investment advice. Figment undertakes no obligation to update the information herein.