Staking Ethereum offers a unique opportunity for token holders to secure the network and earn rewards in the process. By contributing to the stability and security of the Ethereum network, token holders are rewarded with freshly minted ETH and transaction fees, making it a beneficial relationship between the protocol and the staking participants. Staking Ethereum with Figment's industry-leading infrastructure is a seamless and easy process. 
The Figment Staking App enables asset managers and token holders to easily manage their digital assets. For the first time, digital asset holders can now control their staking positions across multiple custodians or wallets in a single dashboard. 
Before we jump into how simple Figment makes staking Ethereum with the Figment Staking App, we will take a quick tour of what makes it such a powerful tool for managing your staked digital assets.
Figment Staking App Walkthrough:
Dashboard
When you log into the Figment Staking App, you will be greeted with the dashboard. The dashboard is the core of the Figment Staking App, where we can see all our staked positions in one place. Even if you do not currently stake using the Figment Staking App, or for whatever reason aren't staked to a Figment validator, you can add your address(es) on the left-hand side to see more the staking details on one page.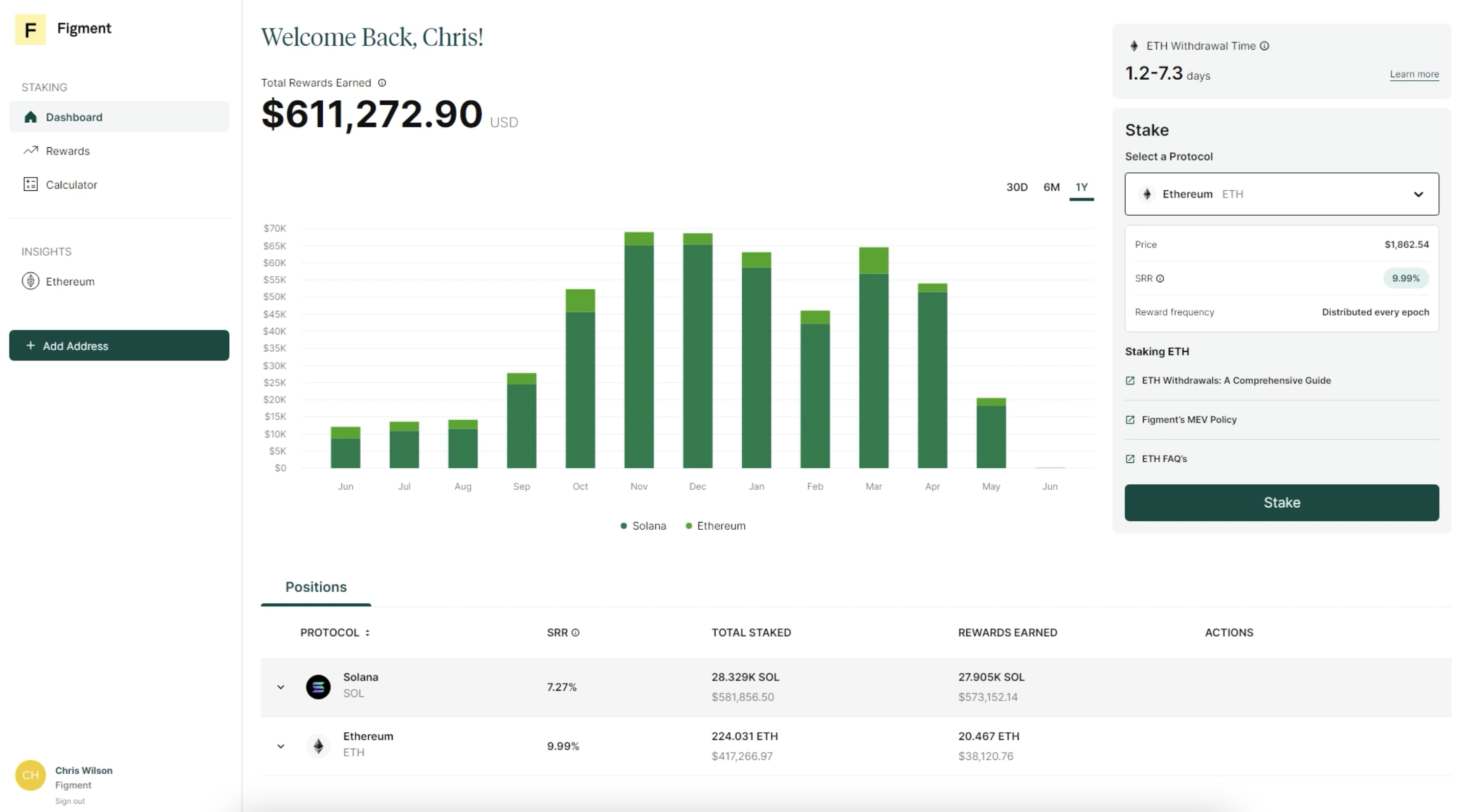 Under "Positions", we can see all our staked positions along with other relevant staking information. For example, you can quickly look here and see if you have earned enough ETH in rewards to re-stake.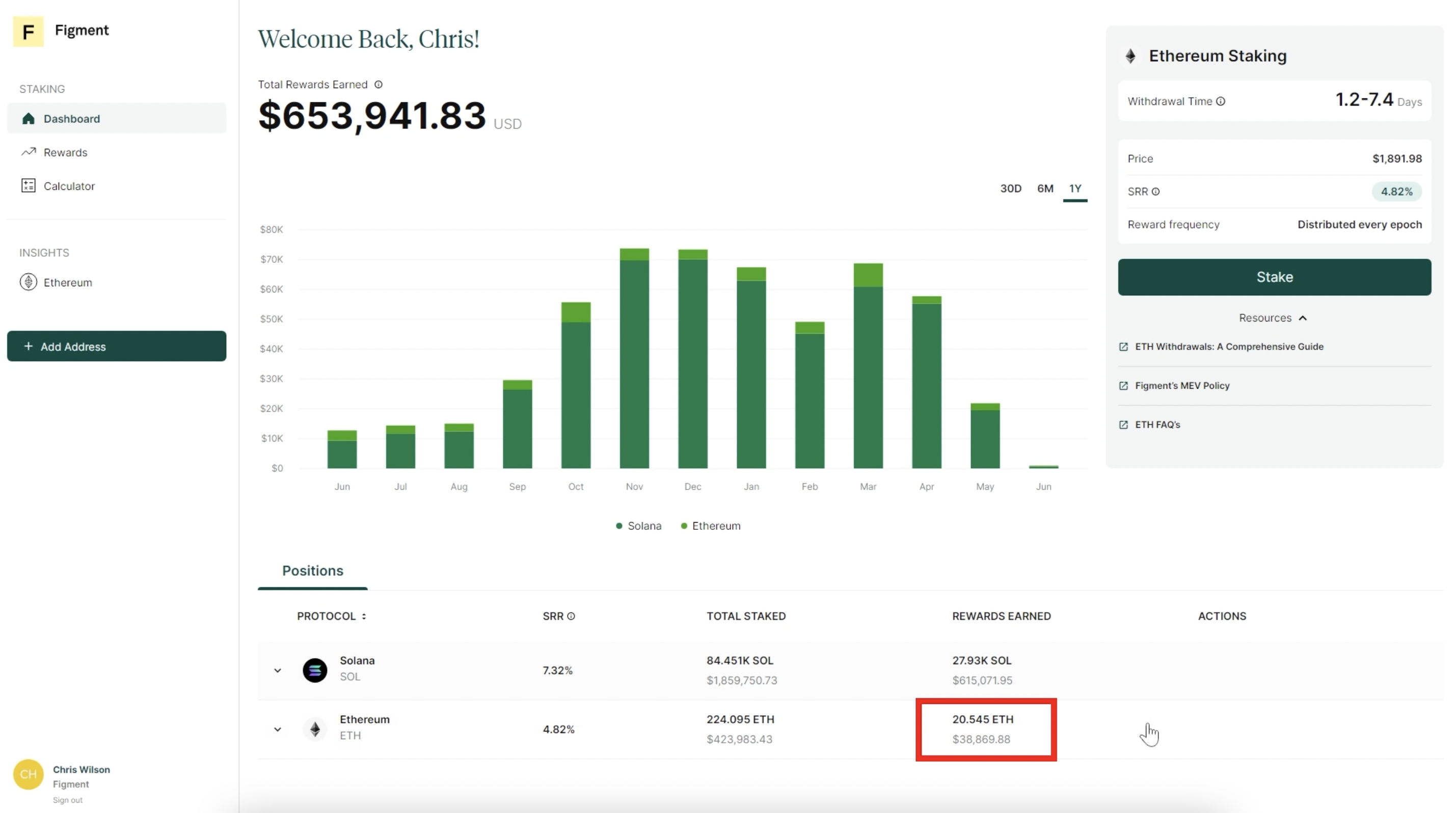 Looking for more details? Click on a network to see all of your staking positions.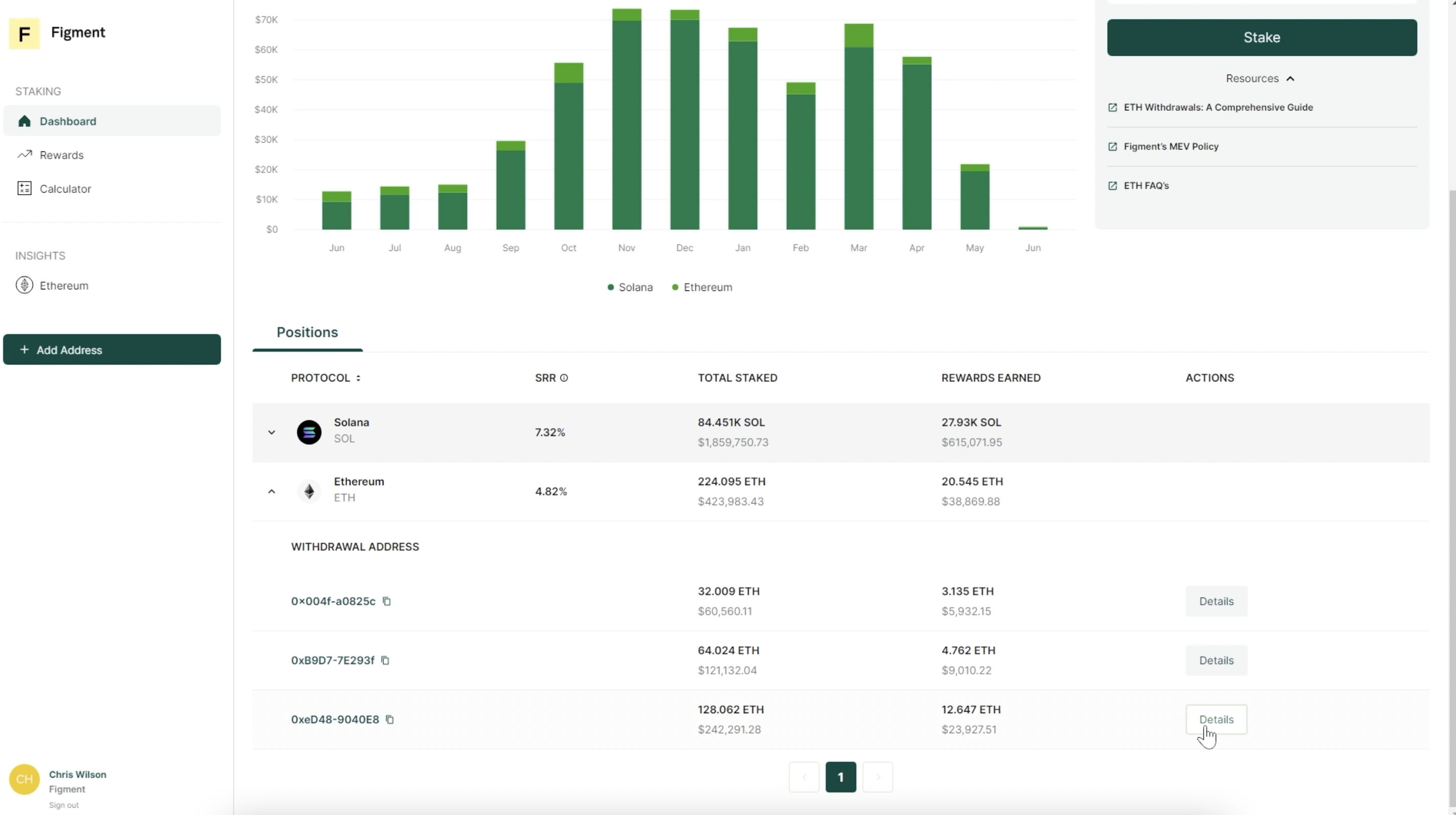 To go a step further, we can click on details and see all the validators attached to that withdrawal address.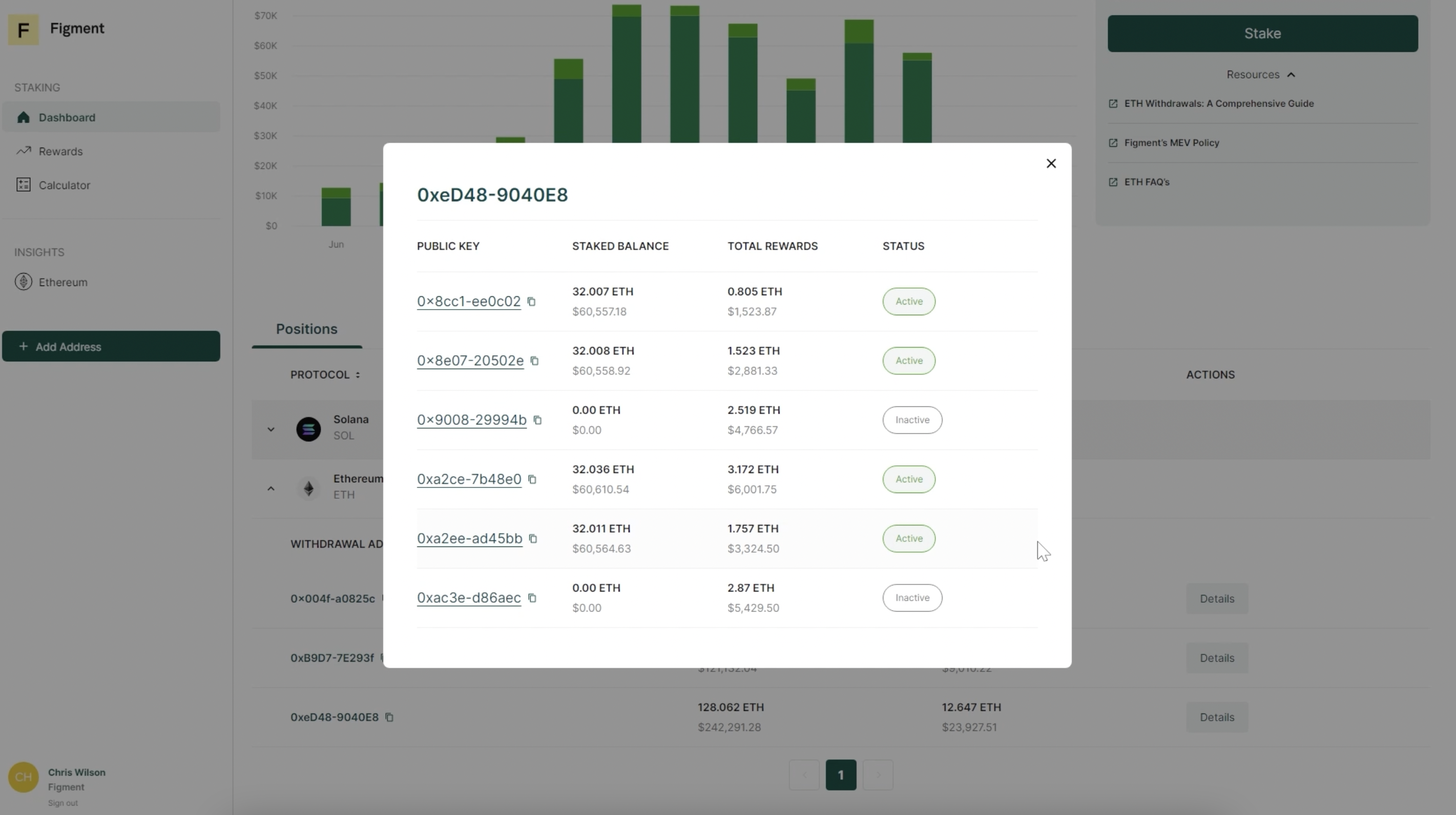 Rewards
By clicking "Rewards" in the left side menu, you can download detailed rewards reports filtered by protocol and date range.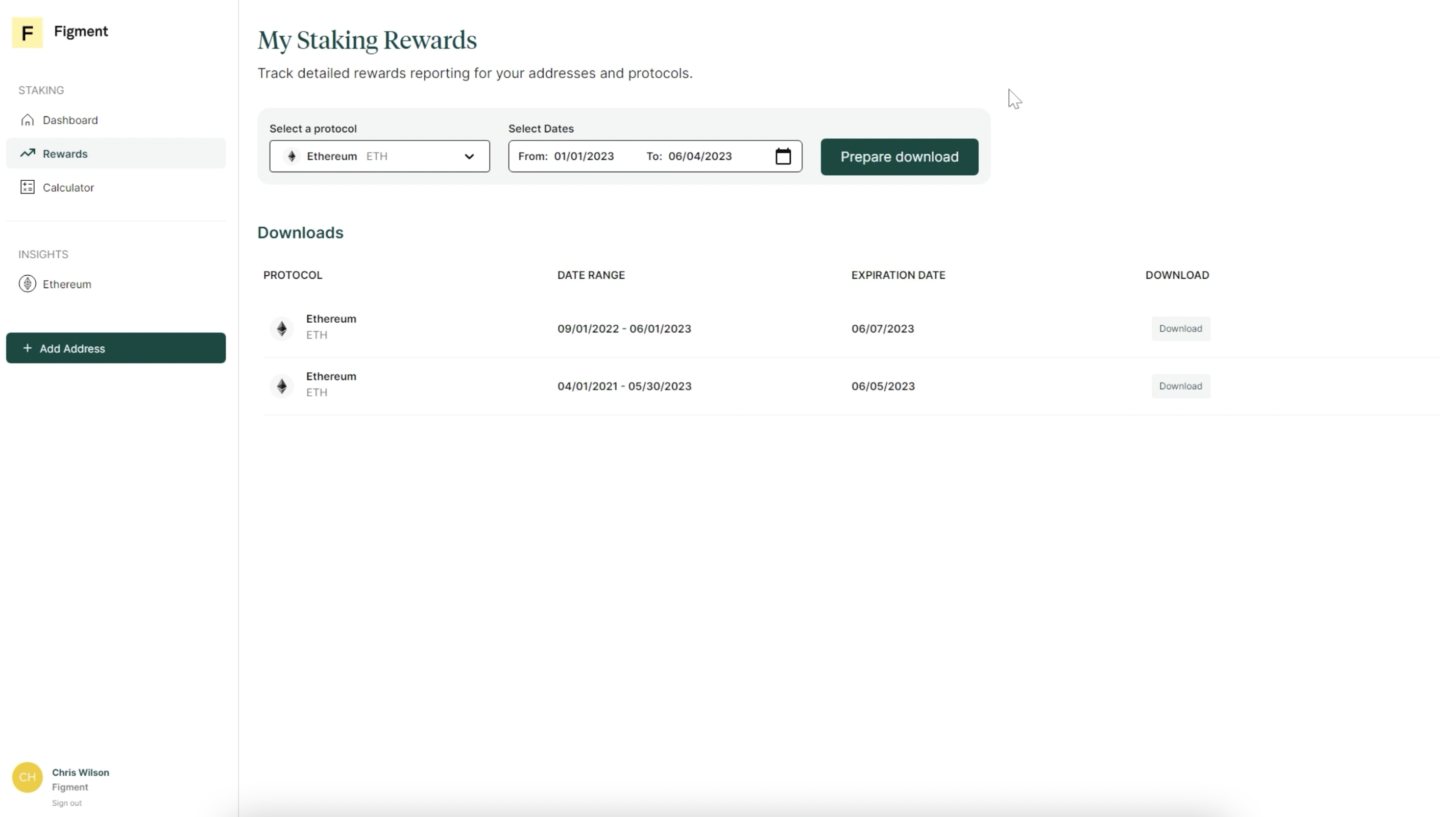 Choose the protocol, select the dates, and click prepare download. It's that easy! The rewards report will be prepared, and when it's done, you can click download.
Calculator
We included our rewards calculator right inside of the Figment Staking App.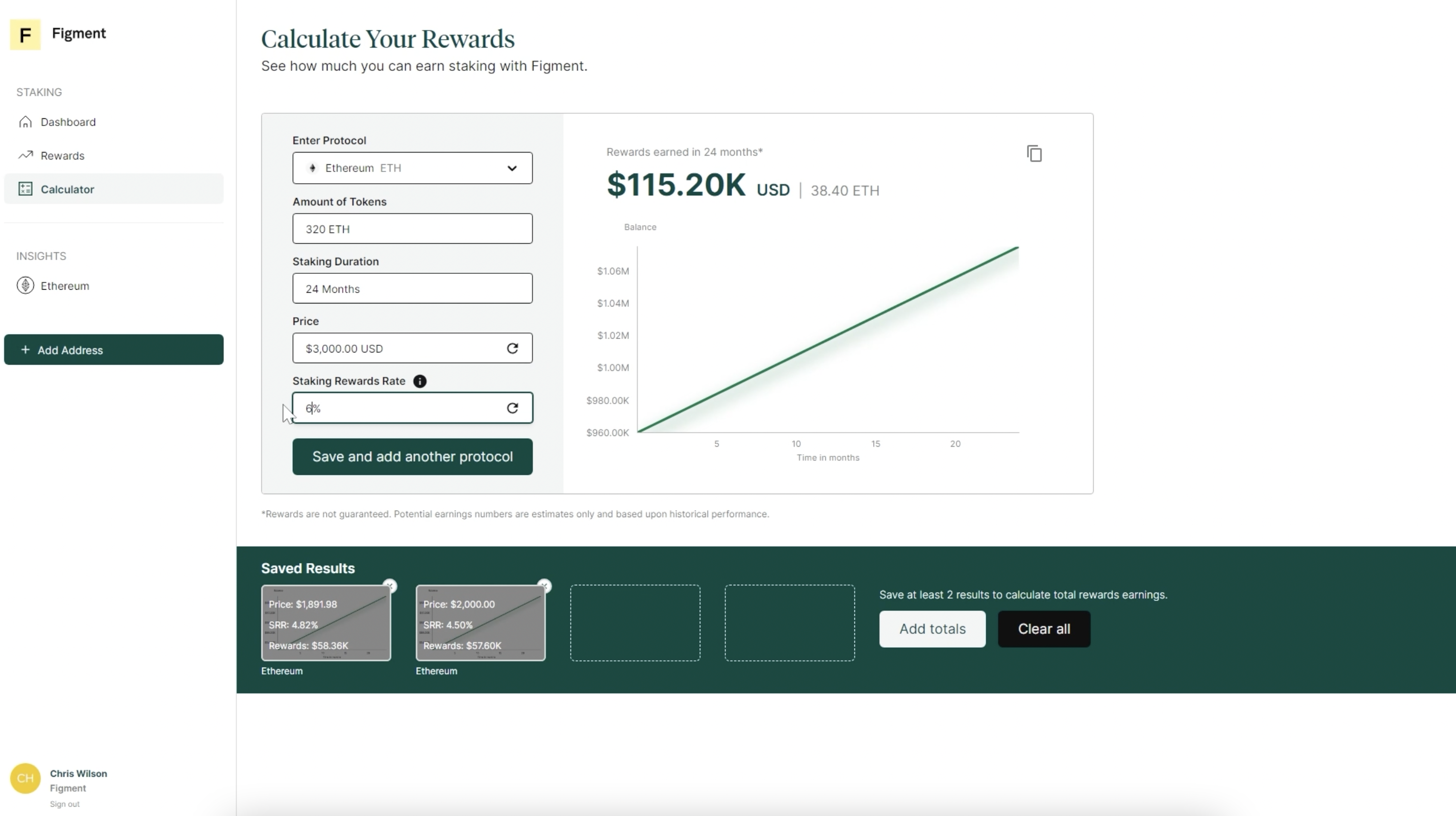 To calculate staking rewards using the Rewards Calculator, you can choose the protocol, the amount you wish to stake, the duration, price, and reward rate as variables.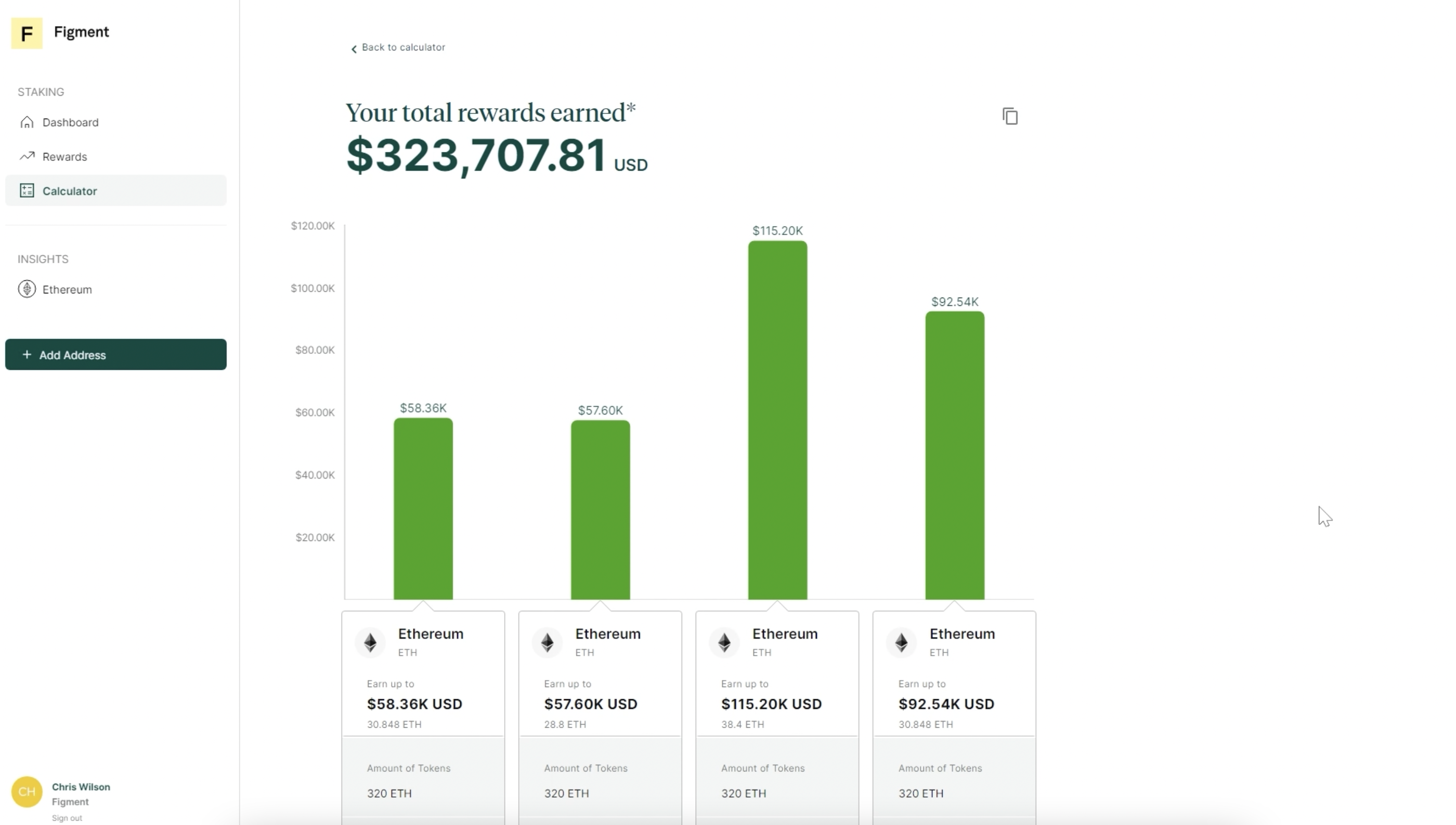 You also have the ability to be able to save calculations and compare them to multiple protocols.
Insights
Under the "Insights" section in the left side menu, you can see the protocols we have deep insights on. Clicking on "Ethereum", we can see a plethora of information.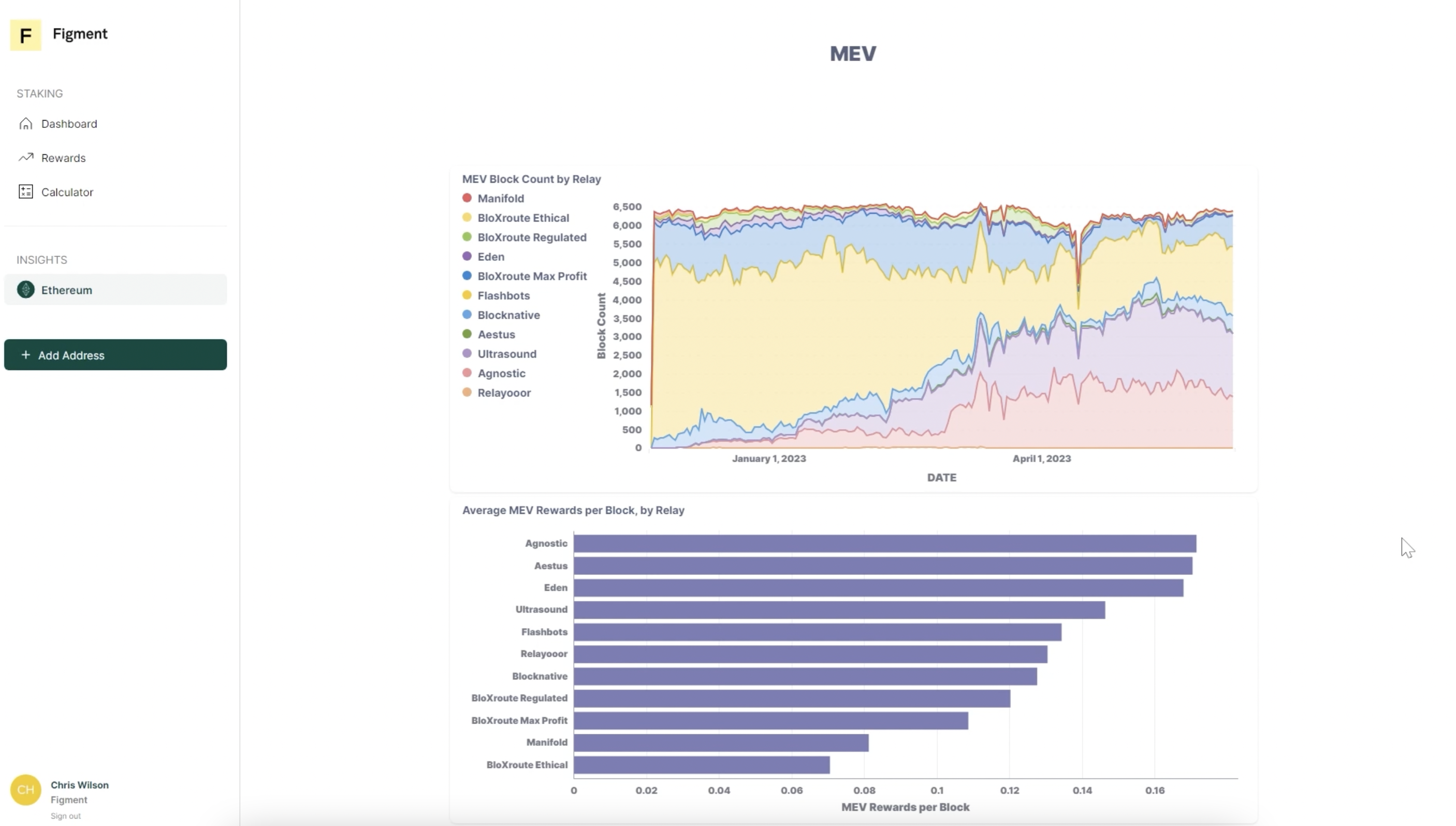 Now that we know the different tools at your fingertips on the Figment Staking App, let's take a look at how to stake Ethereum right in the app. 
Staking Ethereum: Step-by-step Guide 
Navigate to the Figment Staking App to get started staking Ethereum.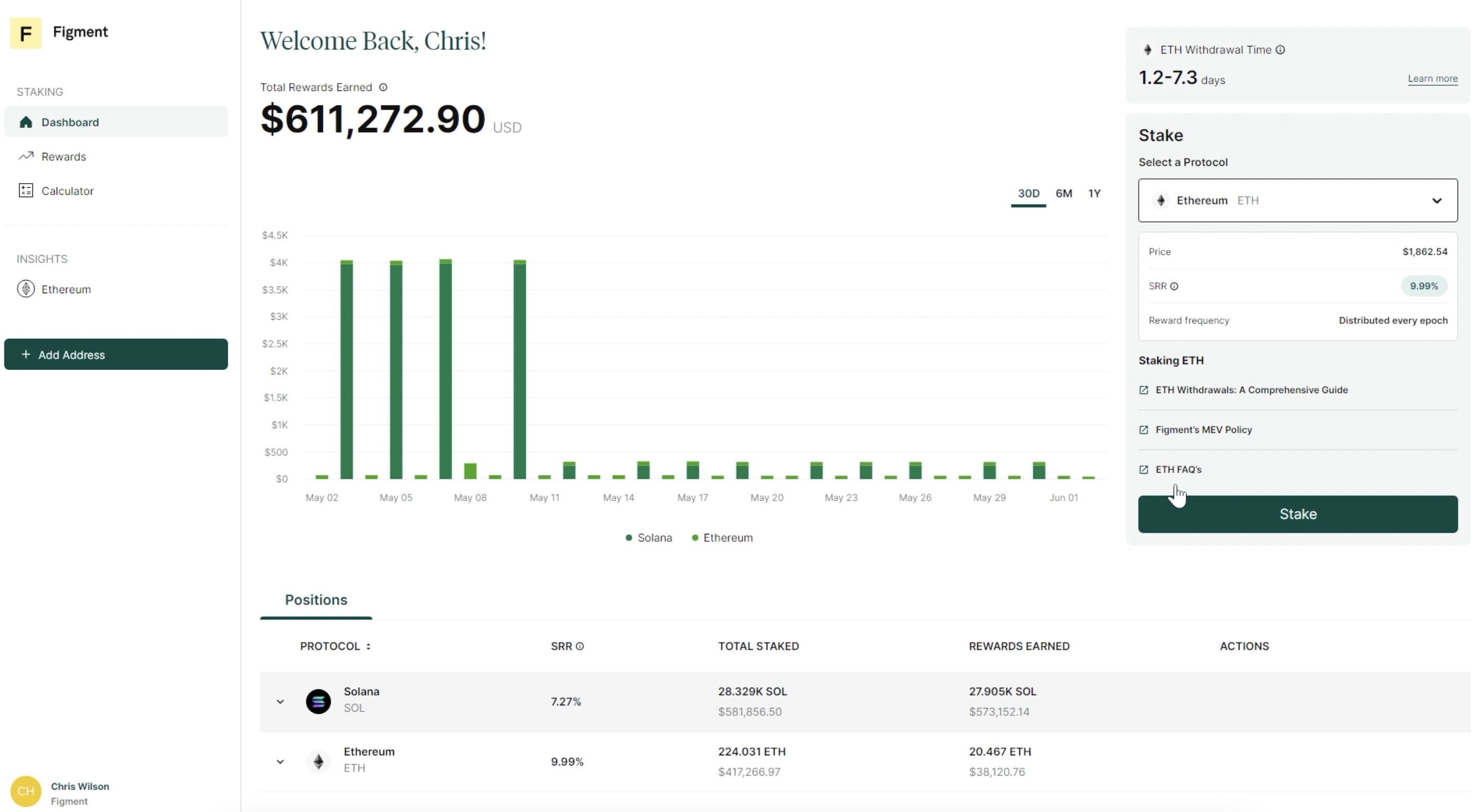 Locate the "Stake" button on the right. Here we can see the available protocols, and for this guide, we will be choosing Ethereum.
Below this, we can see the latest benchmarked price, Staking Rewards Rates (SSR), and how often rewards are distributed. As a reminder, when staking ETH, it must be in increments of 32. With the Figment Staking App, you create up to 100 validators at one time. 
Click the "Stake" button and proceed.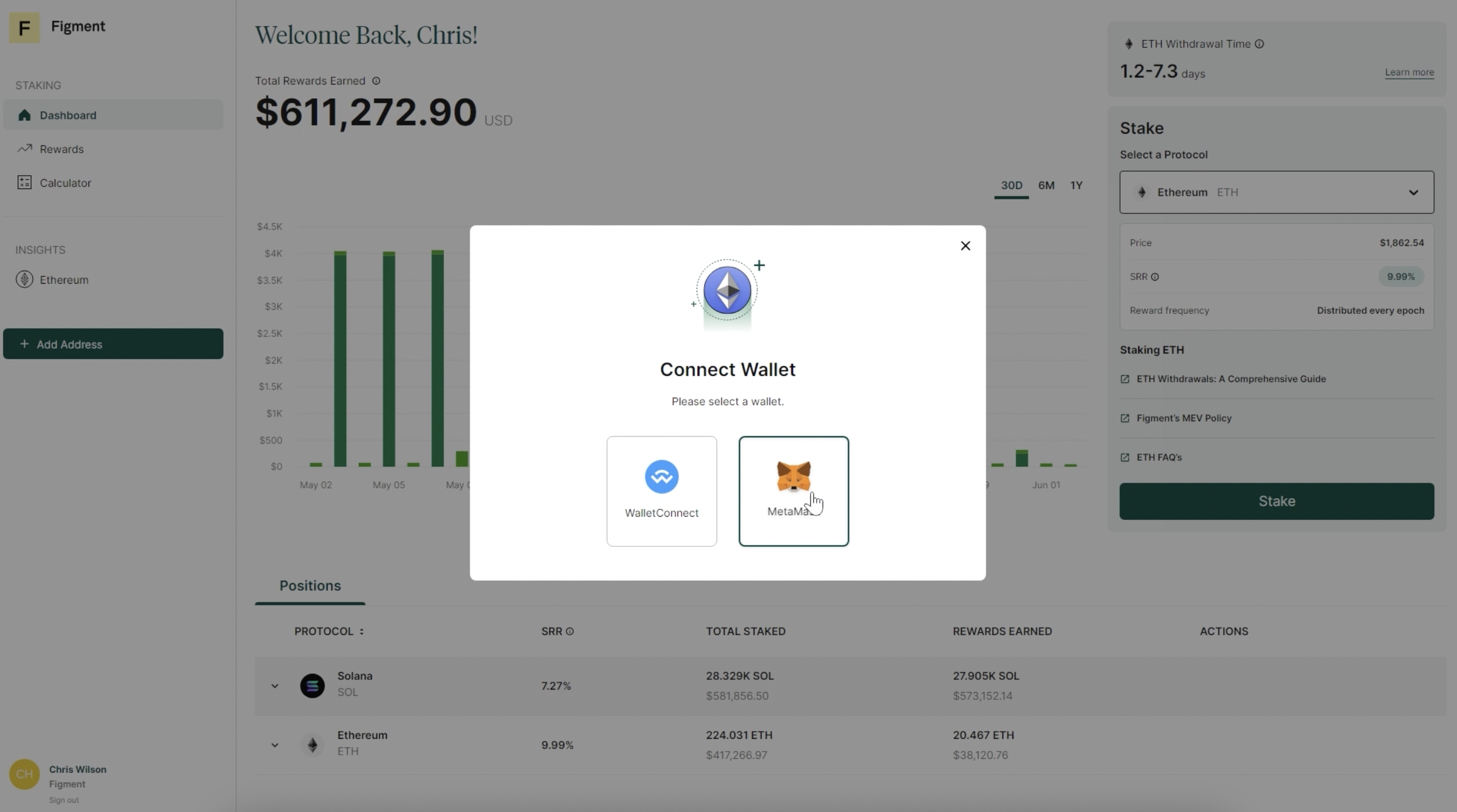 Now, let's connect your wallet. Within the Figment Staking App, you can connect any MetaMask or WalletConnect compatible wallet or clone. We recommend only having one wallet extension enabled at a time while using the app. Through WalletConnect, there are several different custodian solutions available such as Bitgo, Fireblocks, Ledger, and more.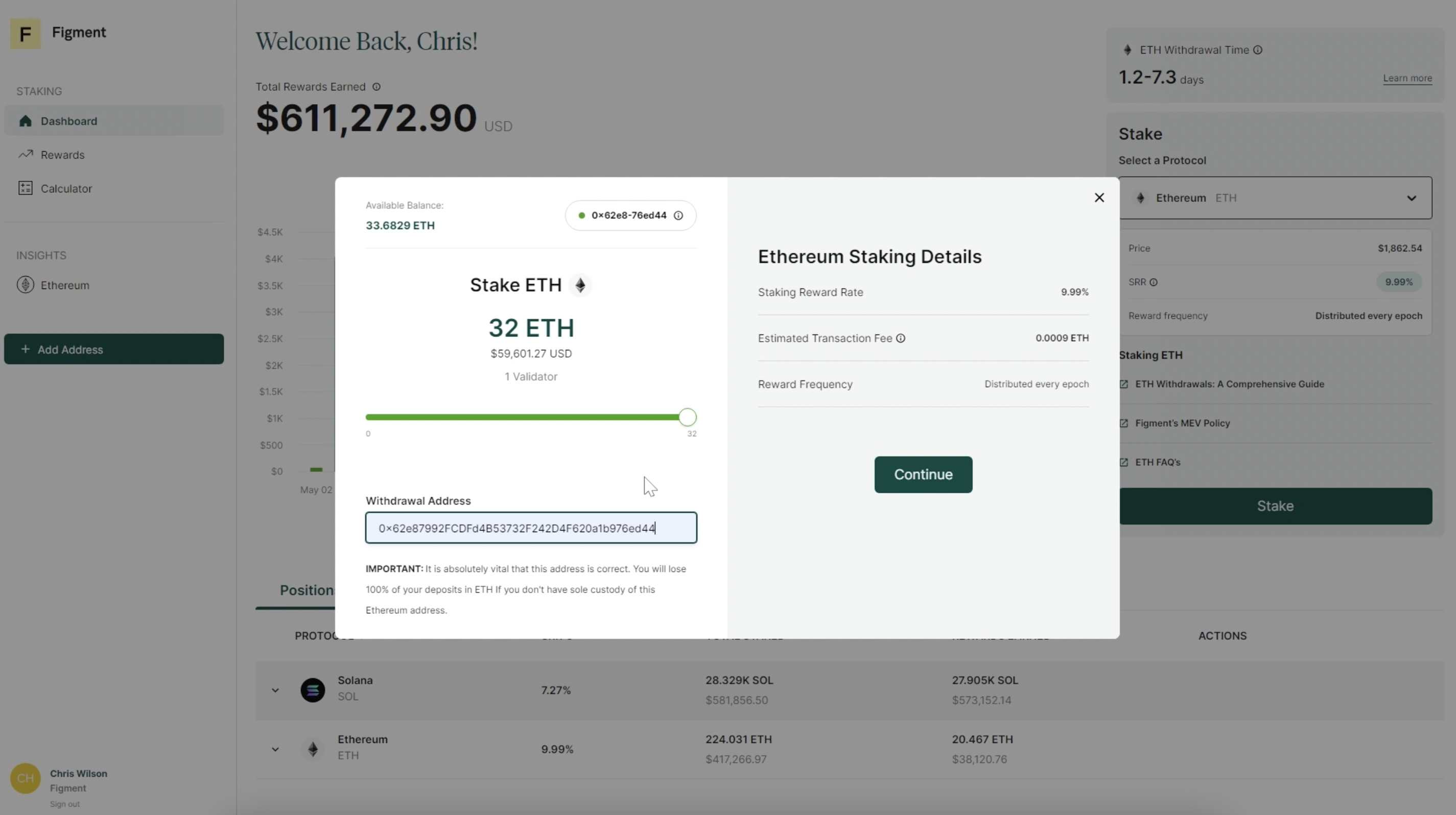 Here we can put in how many validators we wish to provision, and then we can put in our withdrawal address. It is absolutely vital that this address is correct. You will lose 100% of your deposits in ETH If you don't have sole custody of this Ethereum address.
Once we have triple-checked that the address is correct, we can click "Continue".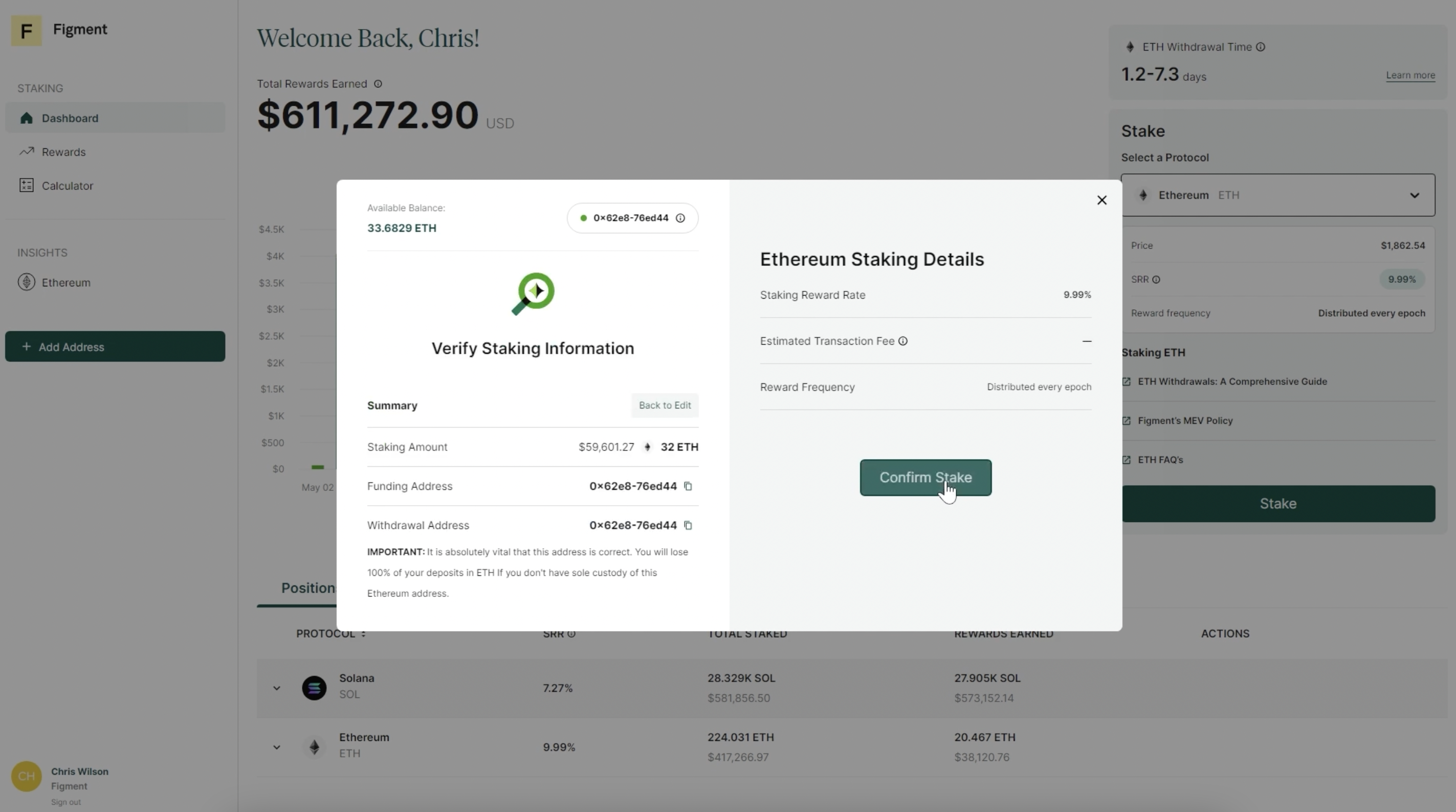 Review one more time to ensure that all your information here is correct and that you have provided the right withdrawal address, and then click "Confirm Stake". Again, it is very important to ensure all of this information is accurate.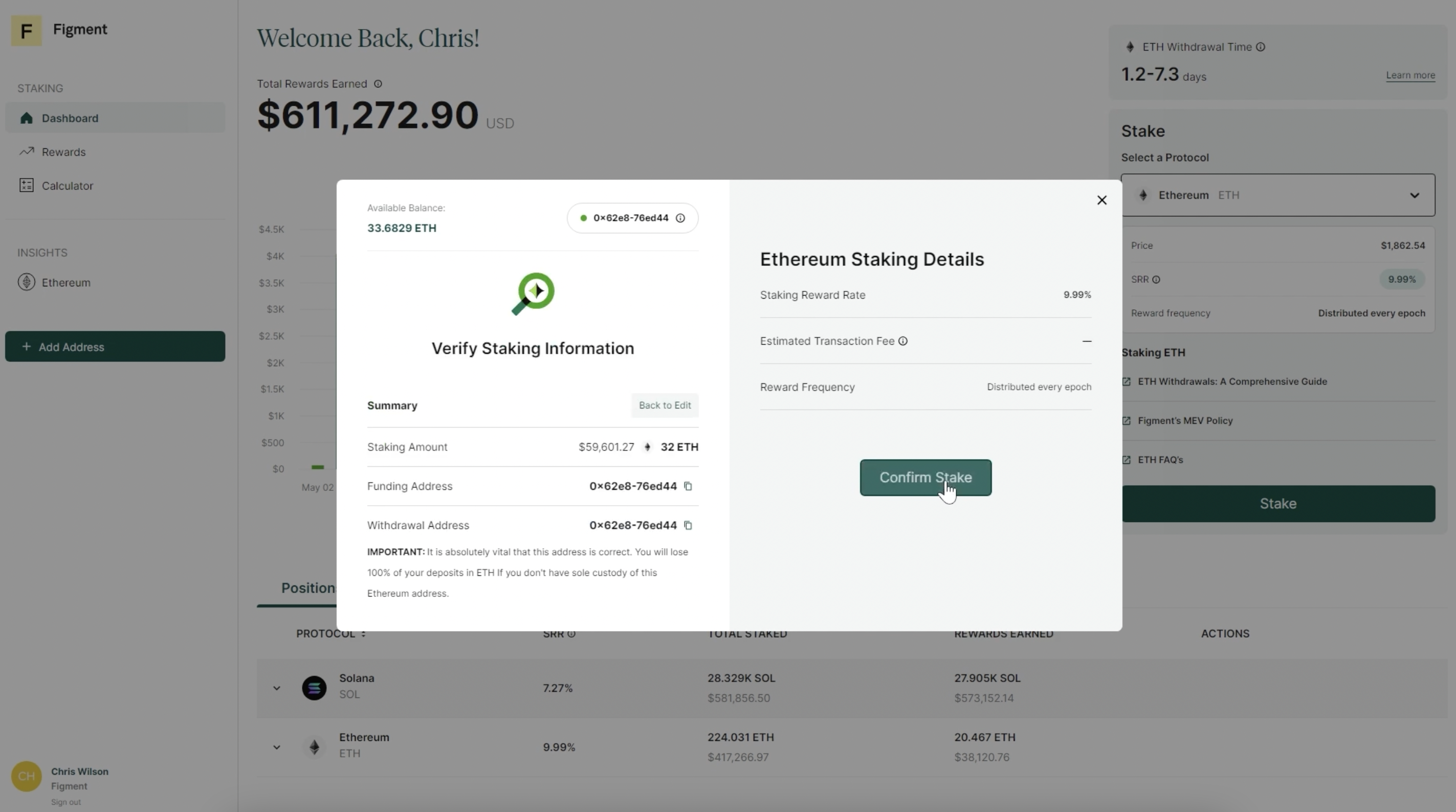 Once you click "Confirm Stake", a pop-up will appear indicating that our validators are being fetched. Please note that this step can take up to five minutes – do not close or refresh the pop-up window during this period.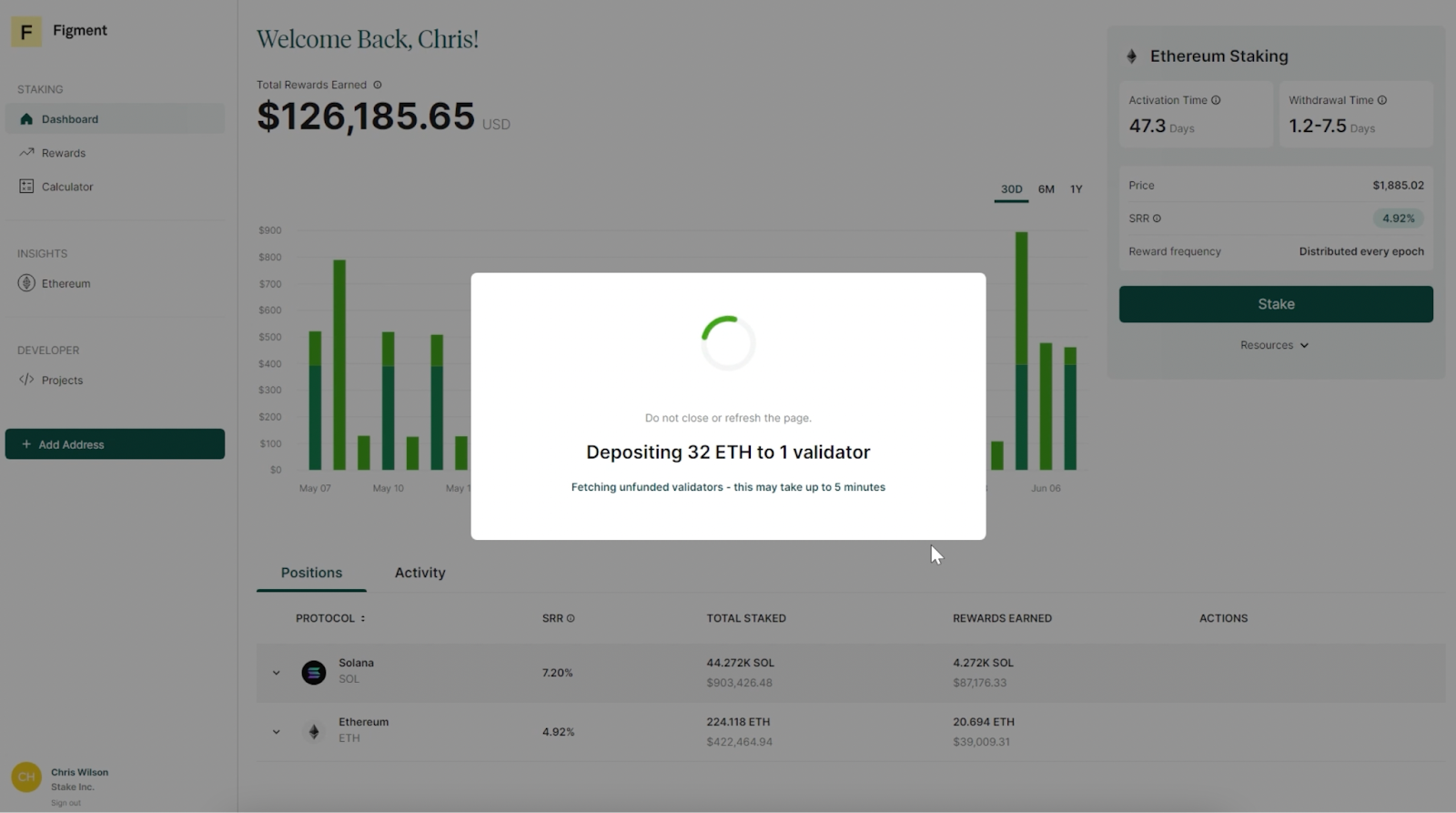 Once the validators are fetched, we will see the pop-up change to "Waiting for Signature", and your MetaMask should pop up on the right-hand side of your screen. If not, go ahead and check your wallet to sign the transaction. 
If you used WalletConnect, you will need to go to your wallet and sign the transaction just like any other transaction.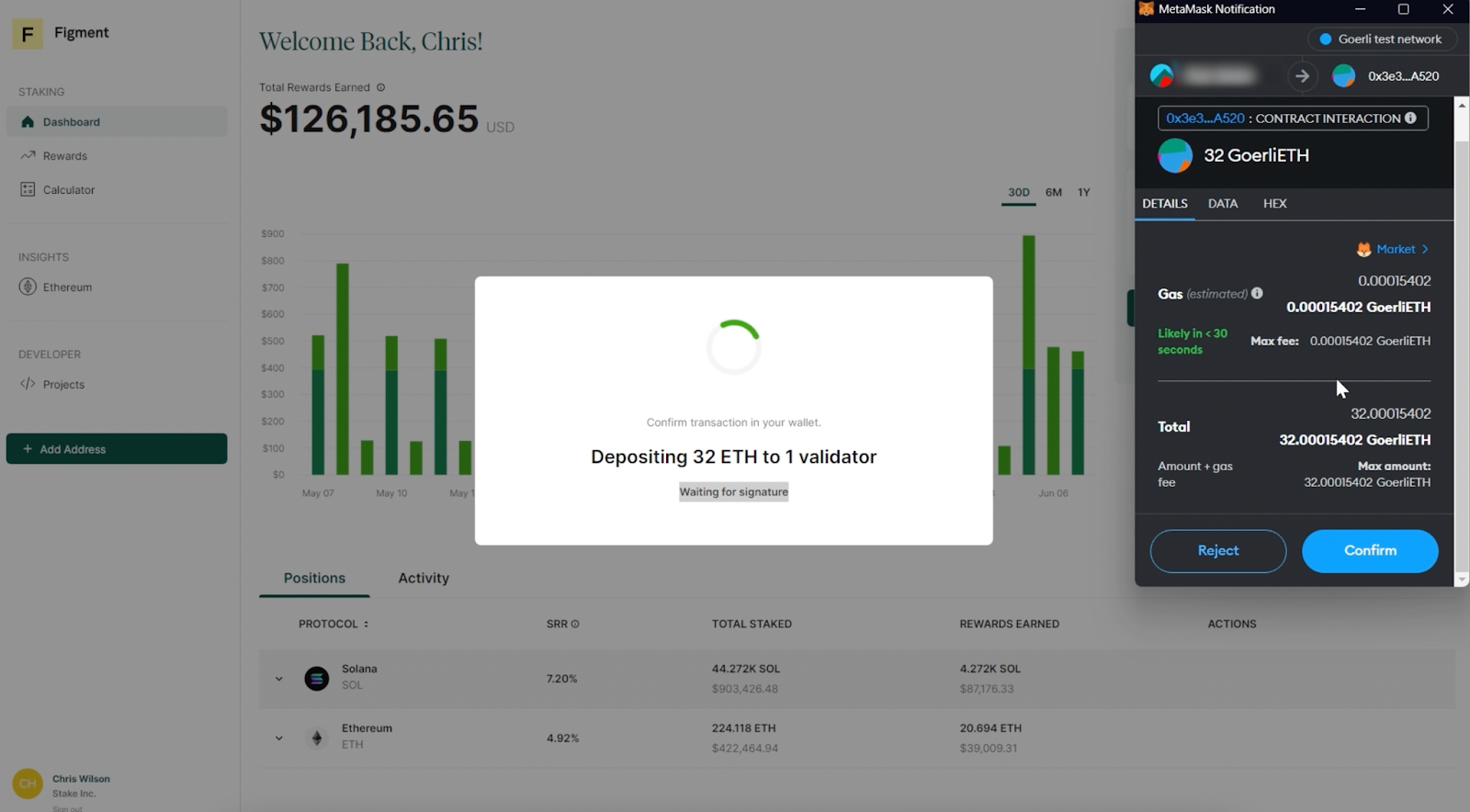 Once signed, the popup will say "Confirming Transaction". Once the transaction has been confirmed, you will see a confirmation message. You will also receive an email shortly after you stake confirming the transaction went through, and then another email after the validators have become active.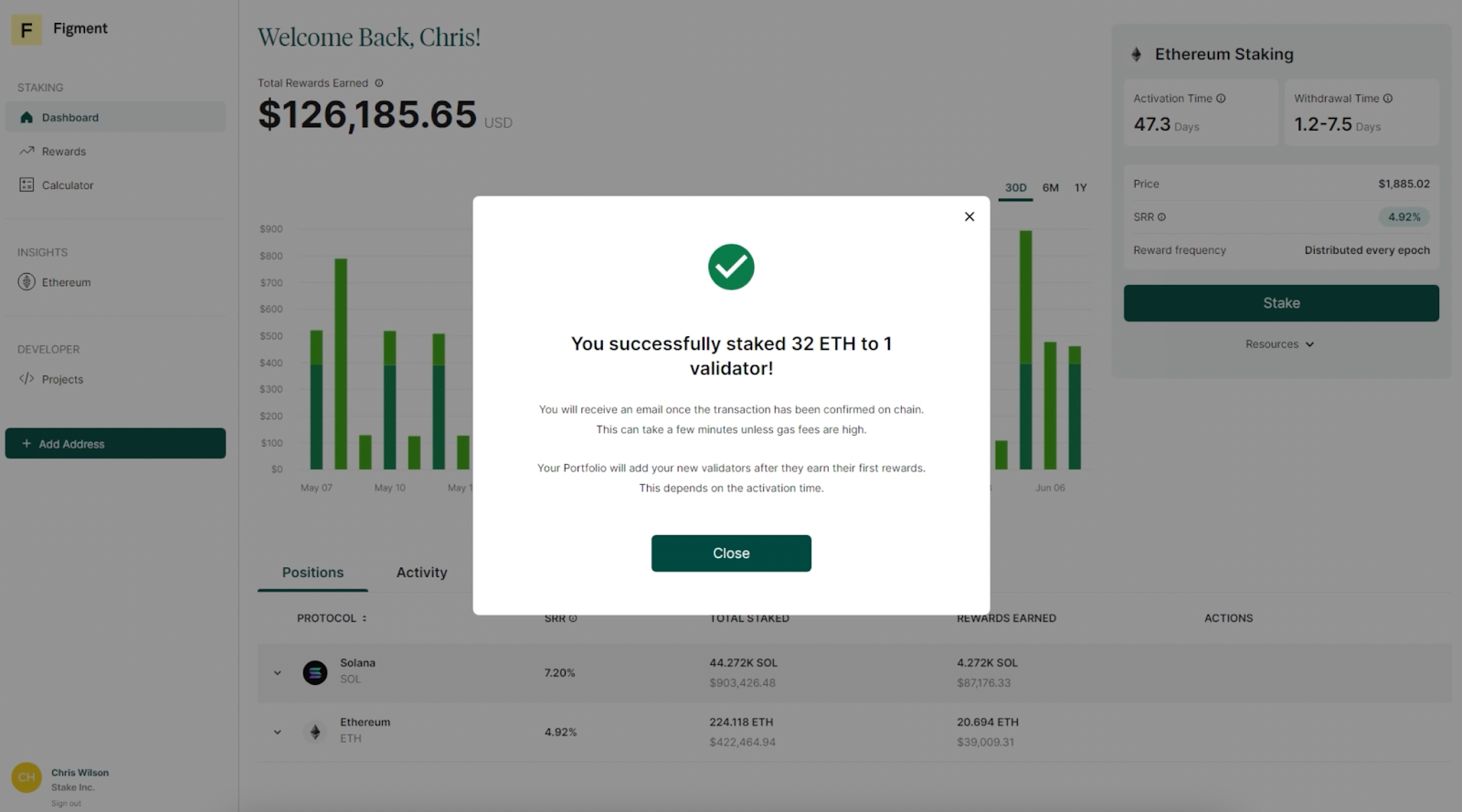 Don't worry if you don't see the address added to your "Positions" table in the dashboard. As soon as your validator earns rewards for the first time and has passed through the withdrawal queue, the address will be included under "Positions".
Congratulations, you just staked Ethereum with Figment's industry-leading staking infrastructure. 
Staking Ethereum with Figment 
If you are interested in staking Ethereum, Figment offers a host of services aimed at delivering safe and reliable staking rewards for your assets. Figment is the world's leading provider of staking infrastructure. Our 200+ institutional clients rely on Figment to provide best in class staking services including the Figment Staking App, seamless and easy integrations, double-sign slashing and downtime penalty coverage, comprehensive rewards reporting, insights, and MEV-Boost activation on ETH.
Figment's Protocol team has extensive Ethereum knowledge intended to help dive into the specifics such as rewards and staking information. Head here to learn more about Ethereum staking.
The information herein is being provided to you for general informational purposes only. It is not intended to be, nor should it be relied upon as, legal, business, or investment advice. Figment undertakes no obligation to update the information herein.