Ethereum has solidified itself as one of the most popular and widely-used blockchains, serving as the foundation for decentralized finance (DeFi), non-fungible tokens (NFTs), games, enterprise solutions, and more.
With so much value flowing through Ethereum, it's critical that the network remains secure. This is where staking comes in – staking your ETH can help secure the Ethereum network while you earning rewards.
In this comprehensive guide, we'll break down everything you need to know about staking Ethereum including:
Ethereum

Staking and Who Participates

How

Ethereum

Staking Works

The Benefits of Staking Your ETH

Different Methods to Stake

Step-by-Step Staking Instructions to Stake with Figment

Potential Downsides and Concerns

FAQs on Staking Rewards, Best Options, and Calculators
Let's dive in and uncover the world of Ethereum staking!
What is Staking?
Staking is a process in which token holders can earn rewards by securing their tokens helping to secure a blockchain network. 
Staking is not an investment product. Rather, it enables token holders to earn rewards by delegating their tokens in order to validate transactions on the underlying blockchain, which helps ensure the security and integrity of the network.
Ethereum
Staking
Ethereum staking involves locking up increments of 32 ETH to activate a validator that stores data, processes transactions, and adds new blocks to the Ethereum blockchain.
Requiring validators to secure and operate with staked tokens by design disincentivizes malicious behavior that could harm the network. As decentralization on a network increases and more validators join the active set, networks become more resistant to attacks. Learn more about how staking improves network security. 
In exchange for securing the network, Ethereum validators earn staking rewards in the form of freshly minted ETH coins and a portion of network fees.
This proof-of-stake model aligns incentives between token holders, validators, and the Ethereum protocol itself – all working together to strengthen the network.
Who Stakes
Ethereum
?
A few groups commonly participate in Ethereum staking:
Individuals

with at least 32 ETH who want to support the network's security while earning attractive rewards on their holdings.

Institutions & funds

seeking to generate income on ETH assets under management. Staking provides higher rewards than holding spot ETH.

Validator node operators

who actively maintain infrastructure to participate in consensus and collect fees/rewards.

Exchanges and wallets

offering staking services to customers and sharing revenue.
Staking
Ethereum
: Key Concepts 
Now that we've covered the "what" and "who" of Ethereum staking, let's explore the mechanics of how it works under the hood.
There are a few key concepts and terms to understand:
Epochs
The Ethereum network progresses in intervals called epochs that last for approximately 6.4 minutes. In each epoch, groups of validators are randomly selected and assigned to validate specific shards (segments) of the network.
This sharding helps Ethereum efficiently scale while keeping validators decentralized. No single validator can validate all transactions.
Active Validators
To become an active validator on Ethereum, you need to stake 32 ETH. This activates the validator software that can then be randomly selected by the protocol to propose and validate new blocks.
The more ETH staked on the network, the more validators can be supported. There are currently over 400,000+ active validators securing Ethereum.
This unlocks staking for those without 32 full ETH while providing liquidity. The staked ETH still earns rewards in the background.
Why Stake
Ethereum
?
Staking provides unique advantages for ETH holders including:
Earn rewards

on your ETH in the form of staking rewards. Current rewards are around 4-5% annually.

Increase your ETH holdings

as staking rewards are paid out in newly minted ETH coins and fees.

Support network security

by decentralizing validation and making attacks more expensive.

Get exposure to ETH upside

while earning rewards through staking. No need to sell your assets.
For these reasons, staking has become an attractive option for all types of Ethereum investors. The benefits vary slightly depending on how you choose to stake, which we'll explore next.
Methods of Staking
Ethereum
There are several methods ETH holders can use to stake and earn rewards:
Solo Staking
This involves running your own validator infrastructure by staking 32 ETH directly through an Ethereum client like Teku. Solo staking gives you full control but requires technical expertise.
Staking-as-a-Service
Staking providers like Figment handle the infrastructure for you, allowing users to stake any amount of ETH through an easy-to-use platform.
This removes the operational complexity of solo staking while still allowing users to retain control of assets. Figment also provides portfolio tracking, insights, and robust security.
Pooled Staking
By pooling ETH together with other users, pooled staking contracts let you stake any amount of ETH. The pool operator runs the infrastructure and rewards are shared proportionally.
Centralized Exchanges
Some exchanges like Coinbase offer staking services directly, taking custody of your ETH and distributing a percentage of rewards.
Each method has trade-offs between control, convenience, and decentralization. Most individual users opt for staking services like Figment to simplify the process while maintaining security.
Liquid Staking
Liquid staking protocols like Liquid Collective allow users to stake any amount of ETH while receiving liquid tokens in return. For example, staking on Liquid Collective returns LsETH tokens that can be freely traded or used in DeFi.
How to Stake Your
Ethereum
on the Figment app
Ready to dive into staking your ETH? Here is the step-by-step process:
Navigate to the Figment app to get started staking Ethereum.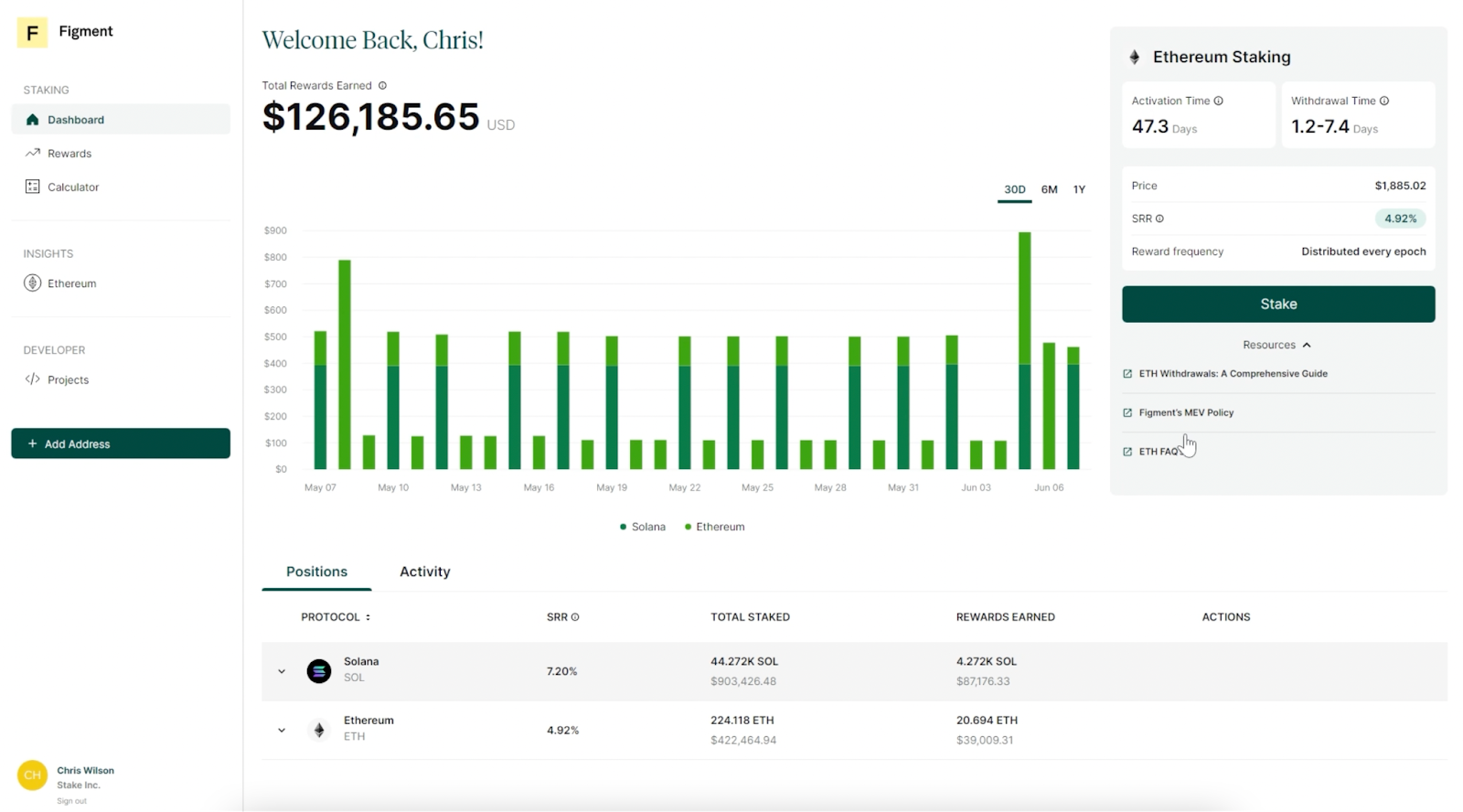 Locate the "Stake" button on the right. Here we can see the available protocols, and for this guide, we will be choosing Ethereum.
Below this, we can see the latest benchmarked price, Staking Rewards Rates (SRR), and how often rewards are distributed. As a reminder, when staking ETH, it must be in increments of 32. With the Figment Staking App, you create up to 100 validators at one time. 
Click the "Stake" button and proceed.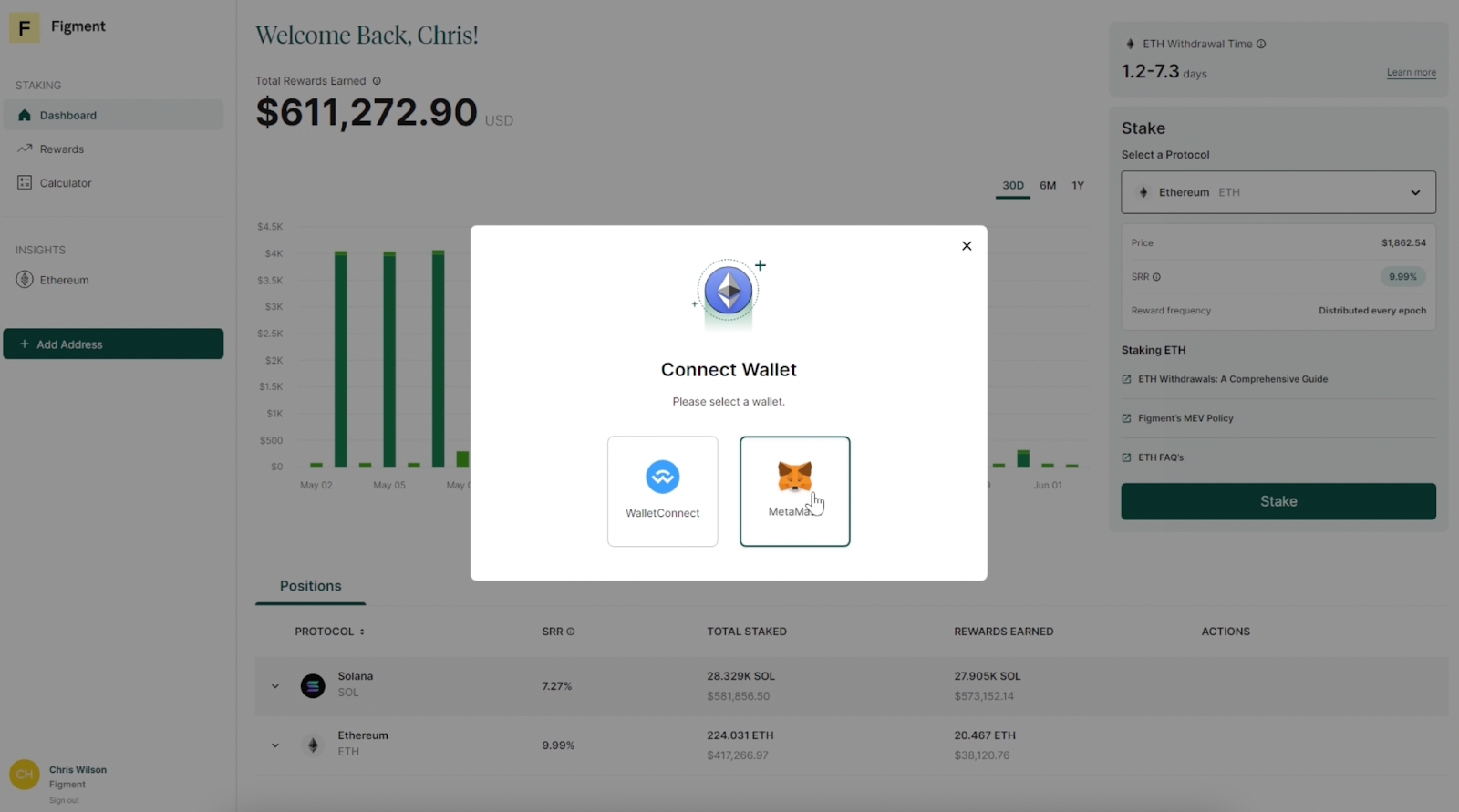 Now, let's connect your wallet. Within the Figment Staking App, you can connect any MetaMask or WalletConnect compatible wallet or clone. We recommend only having one wallet extension enabled at a time while using the app.
Through WalletConnect, there are several different custodian solutions available such as Bitgo, Fireblocks, Ledger, and more.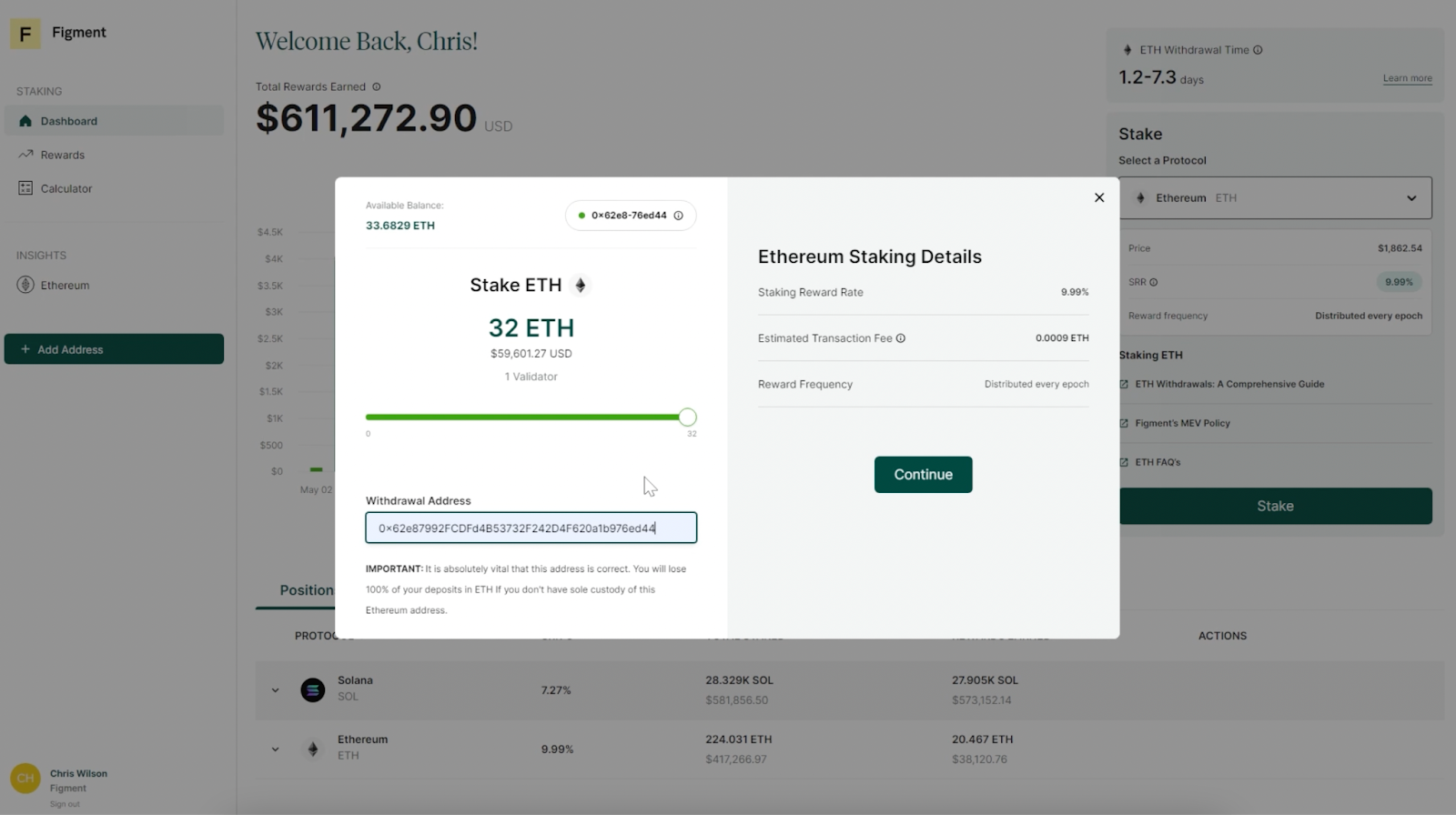 Here you can put in how many validators we wish to provision, and then input your withdrawal address. It is absolutely vital that this address is correct. You will lose 100% of your deposits in ETH If you don't have sole custody of this Ethereum address.
Once we have triple-checked that the address is correct, we can click "Continue."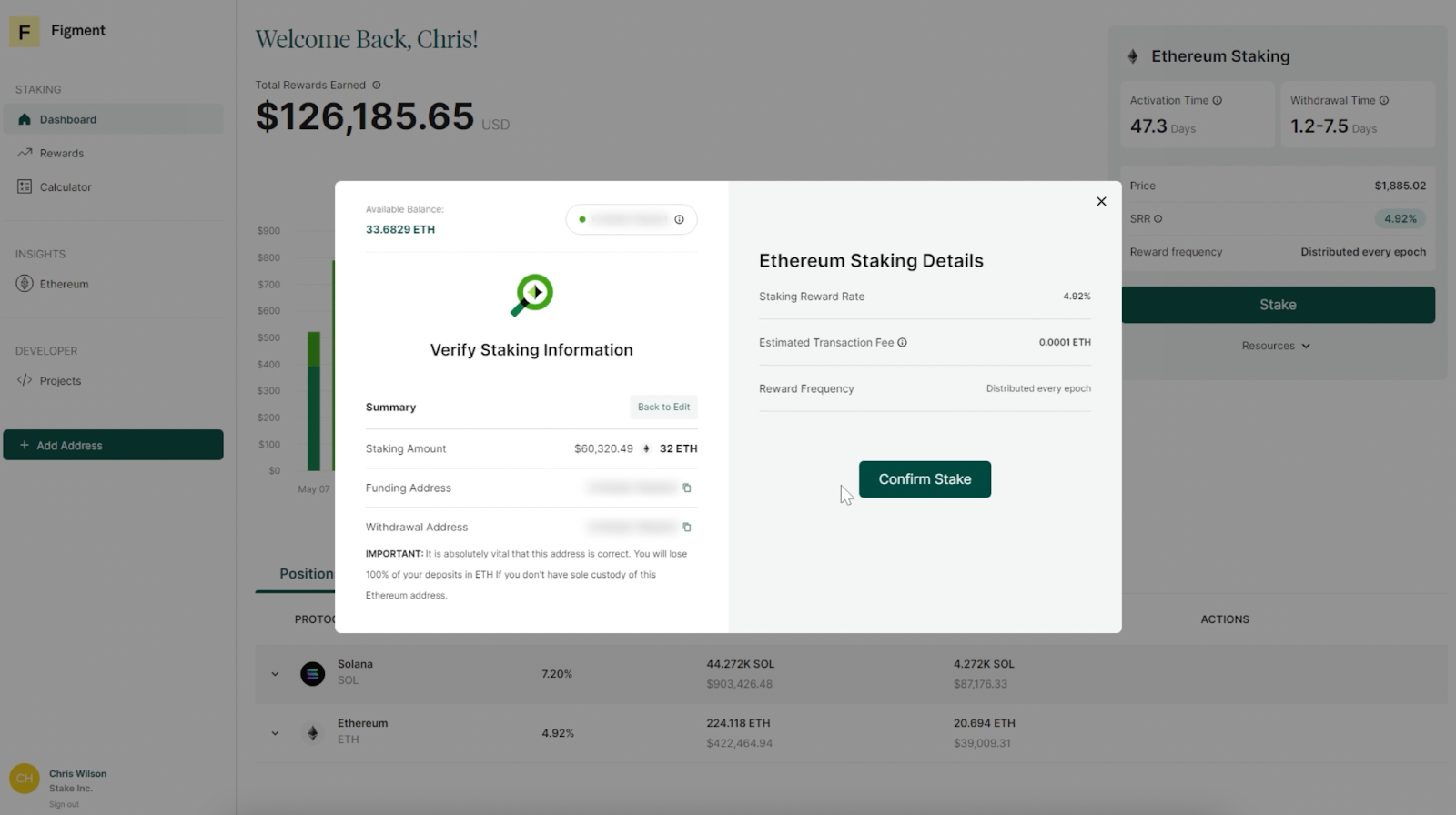 Review one more time to ensure that all your information here is correct and that you have provided the right withdrawal address, and then click "Confirm Stake." Again, it is very important to ensure all of this information is accurate.
Once you click "Confirm Stake," a pop-up will appear indicating that your validators are being fetched. Please note that this step can take up to five minutes – do not close or refresh the pop-up window during this period.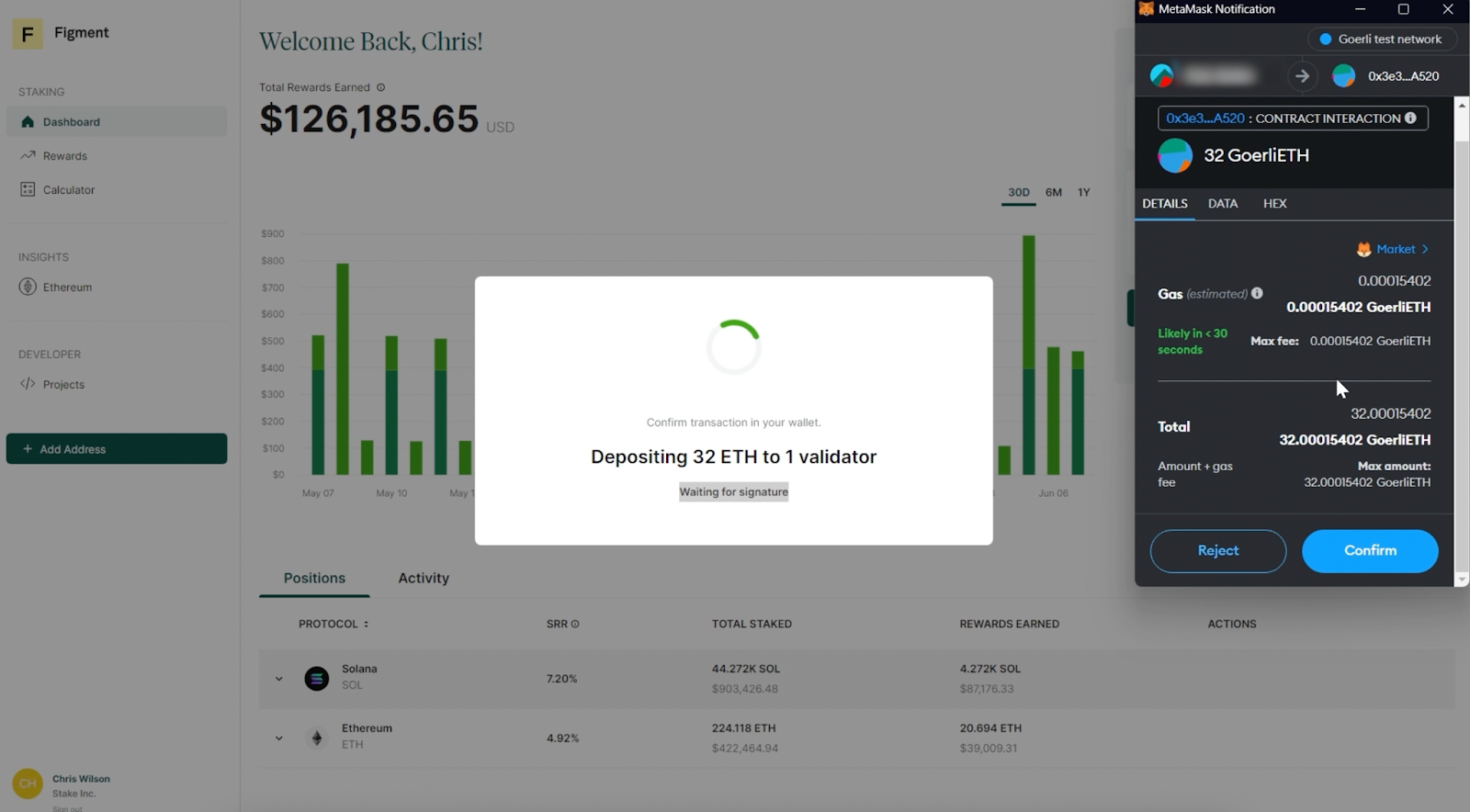 Once the validators are fetched, you will see the pop-up change to "Waiting for Signature,"v message and your MetaMask should pop up on the right-hand side of your screen. If not, go ahead and check your wallet to sign the transaction. 
If you use WalletConnect, you will need to go to your wallet and sign the transaction just like any other transaction.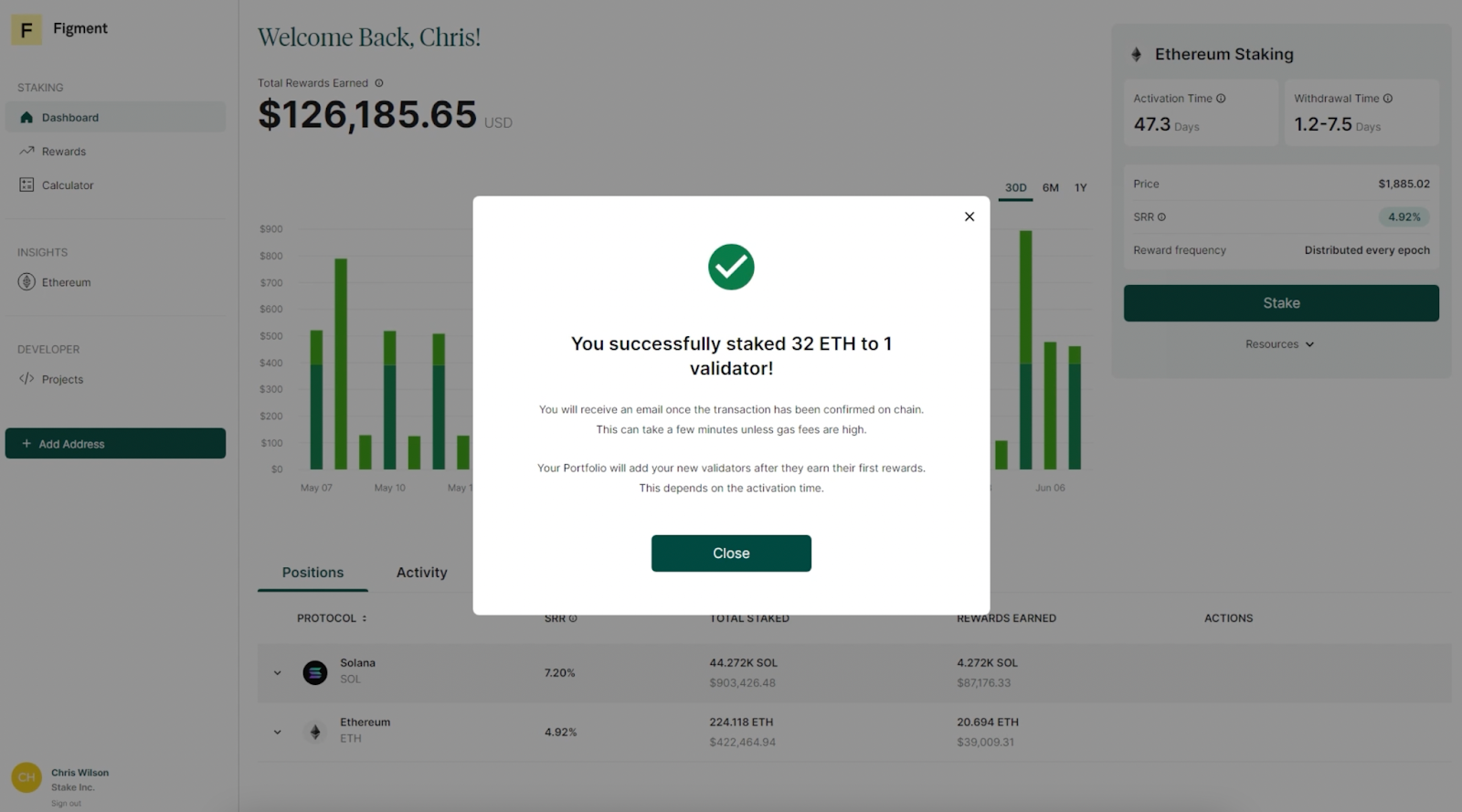 Once signed, the popup will say "Confirming Transaction." Once the transaction has been confirmed, you will see a confirmation message. You will also receive an email shortly after you stake confirming the transaction went through, and then another email after the validators have become active. 
Don't worry if you don't see the address added to your "Positions" table in the dashboard. As soon as your validator earns rewards for the first time and has passed through the withdrawal queue, the address will be included under "Positions."
Congratulations, you just staked Ethereum with Figment's industry-leading staking infrastructure. 
Considerations when Staking
Ethereum
While staking ETH offers significant advantages, there are some downsides to consider:
Illiquidity

– Staked ETH is locked up, limiting liquidity. 

Minimums

– Solo staking requires 32 ETH to activate a validator. 

Slashing

– Validators are penalized ETH for downtime and double-signing. Robust staking providers like Figment help protect against slashing risks providing slashing coverage to help mitigate slashing risks,

learn more about our slashing coverage here. 

Complexity

– Staking can still be seen as technical, especially for solo staking. User-friendly platforms like Figment abstract away complexity.
By selecting a reputable staking service, users can enjoy the benefits of Ethereum staking while mitigating the associated risks.
More About Staking
Ethereum
Let's go over some common questions about staking ETH:
How much do you make staking Ethereum?
Ethereum staking rewards vary but average around 4-5% currently. Some factors like MEV help to increase  these rewards.
What is the best option for staking Ethereum?
For most users, a user-friendly staking service like Figment is the ideal option. You avoid the technical complexity of running your own infrastructure while still retaining control of keys.
Is there a staking Ethereum calculator?
Yes, Figment offers a handy Ethereum staking rewards calculator to estimate your earnings based on the amount staked and other parameters.
Is It Worth It To Stake
Ethereum
?
For most long-term ETH holders, staking is definitely worthwhile. It allows you to generate rewards on a valuable asset you plan to hold anyway while supporting a blockchain you likely utilize.
Platforms like Figment make getting started with Ethereum staking easy and rewarding for any user. With robust security features, you can stake ETH with confidence.
Ready to start securing the Ethereum network while earning rewards on your investment? Get started staking ETH with Figment today and take advantage of this innovative way to tap into Ethereum's potential.